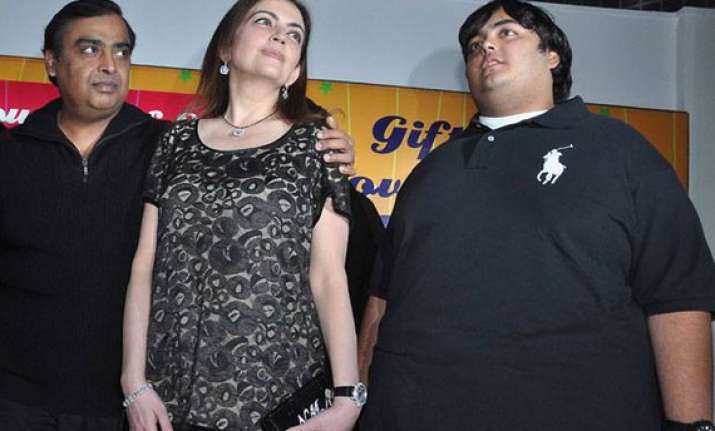 New Delhi, Nov 23: Amid grim economic situation prevalent at the global level, Indian billionaires continue to proper. A China-based research firm Hurun's inaugural India Rich List, recently released a list of India's wealthiest people putting Reliance Industries chairman Mukesh Ambani on the top with a personal wealth of $19.3 billion, followed by steel magnate Lakshmi N. Mittal , who has wealth of $16.9 billion. Despite a slowing economy, the collective wealth of the richest 100 Indians grew at 3.7 per cent to a total of $250 billion.
"The stories of the people on the Hurun India Rich List tell the story of business in modern India," Hurun Report chairman and chief researcher Rupert Hoogewerf said, adding that "12 per cent depreciation of rupee against the US dollar negated the appreciation in India's stock markets."
The list is dominated by men with just 5 per cent of the list occupied by women. Strikingly, 62 per cent of the individuals in the Hurun India Rich List are self-made and Kiran Mazumdar-Shaw is the only self-made woman in the list.
City-wise, Mumbai is home to 36 of India's Richest 100, followed by Delhi and Bengaluru with 22 and 15, respectively. Also, five of the Top 100 are based outside of India and they are led by L N Mittal in London.
India TV Business takes a look at top 10 business persons in the list.
1. Mukesh Ambani
Age: 55
Estimated Wealth: $19.3 billion
Source of Wealth: petrochemicals, oil & gas
Residence: Mumbai, India
Country of Citizenship: India
Education: Bachelor of Science in Engineering, University of Bombay; Drop Out, Stanford University
Marital Status: Married
Children: 3