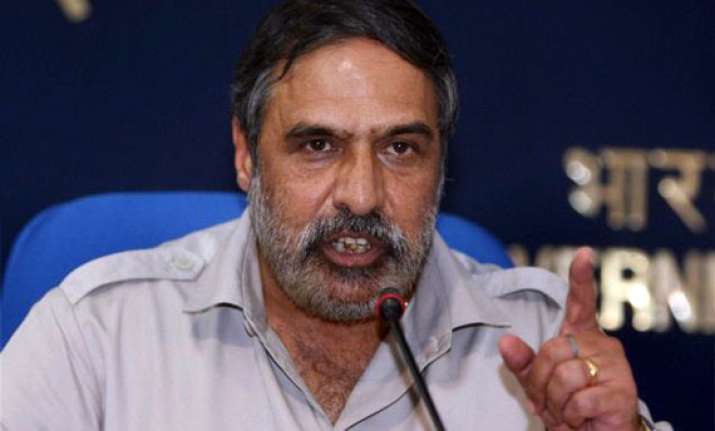 Mumbai: India created a world record of quadrupling its GDP in the past 10 years under the two UPA governments, Union Commerce Minister Anand Sharma said here Saturday.
In contrast, even during the industrial revolution, countries like the US, Britain or Germany could not double their GDP in 10 years. It took them at least 11-12 years to achieve the feat, he said at a press conference.
Japan was the first country which doubled its GDP in a decade while China broke it by tripling its GDP in a decade, Sharma said, citing various reports, including the Reserve Bank of India's reports on India's quadrupling of GDP.
"In 2004, India's GDP was $500 billion and today, it is $2 trillion. No other country has been able to achieve this," Sharma said.
Against this, the growth rate under the Bharatiya Janata Party-led government was less than 6.6 pecent, while under the UPA it was around 7.7 percent barring the past couple of years.
"We also accept that. But we have to appreciate that during the National Democratic Alliance, the tail winds were favourable, but during the UPA rule, there was global financial slowdown and several countries are still to recover from that," Sharma said.
Nevertheless, India ranks at No.2 in the world in terms of growth rate and the per capita income in 2004 was Rs.24,000, while today it is Rs.69,000, he said.
Forex reserves which was $100 billion in 2004 have tripled and today stands at $300 billion, despite spiralling oil prices.
Similarly, exports notched up an impressive five-time growth during the UPA tenures from $60 billion in 2004 to $312 billion now, while the FDI went up 15 times.
"These are achievements of our country and should not be looked down upon. Election propaganda is one thing, but when false information is spread and these achievements are denied, it demoralises the people," Sharma said.
The minister it was false propaganda by the Bharatiya Janata Party (BJP) to malign the Congress and lower its esteem in the eyes of the people.
Sharma wondered how the BJP - which was making so much noise about black money - was spending such huge amounts on the campaign.
"They seem to know where the black money is and how to use it. Their campaign budget is over Rs.10,000 crore. Look at the air time they have booked on 174 TV channels, every newspaper is carrying three-four pages of advertisements projecting Narendra Modi," Sharma said.
Citing official figures, he said that under Modi, Gujarat with a public debt of Rs.170,000 crore now ranks as the third-most indebted state in the country after West Bengal and Uttar Pradesh.
Even in FDI, contrary to Gujarat's claims of topping the list, Maharashtra stands at No.1, while Gujarat is at the fifth position, while in education it is at No.17, he said.