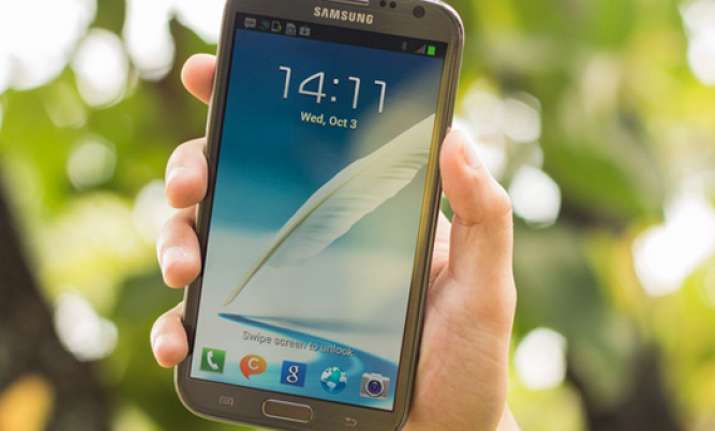 New Delhi, Dec 3: The Samsung Galaxy Note smartphone was the first hybrid tablet-smartphone device to be launched, and very quickly people became a fan of the new category of devices, called Phablets.
Well, phablets today are the new in-thing and every big and small manufacture is trying its luck in this new category. So, be it Micromax, Zync, Karbonn, LG or any other brand, there is a big 5 inch+ screen device available in its arsenal for users to buy and enjoy.
Samsung, being the creator of this category, had to do something to remain at the top of the game. Hence, it launched the Samsung Galaxy Note 2 (N7100). Note 2 is bigger, sleeker and faster than its predecessor, while it is attractively priced as well. In simpler words the world of smartphones has a new dominator, the Note 2; so let's find out how the device fares in the real world.

First looks and build quality
With the launch of the Galaxy SIII Samsung has shown a brand new design and new exciting colours that it has started replicating across devices and categories. The Samsung Galaxy Note 2 N7100 features a sleek and slim profile overall, with a glossy finish, which is available in two colours, titanium grey and marble white. The device that we received came in titanium grey colour. We personally like the darker colour better than the light marble white, and the glossy finish with chrome accents on the sides definitely gives the device a nice and sophisticated look. The front of the device has a flush finish with a single button on the chin, again in the same colour with a thin chrome lining all round it.
The body is made of poly-carbonate plastic that gives it strength and makes it lightweight too. With a total weight of 180 grams the device is light. Compared to the older Note N7000 it has a narrower shape and feels more smartphone-ish. The glossy finish, however, is a bigger concern for the device as it will show signs of discoloration and fading if not handled with care. The Note 2 we received was a test unit that had been to several places and its back was badly scratched. A solution such as Riona Avenew Mobile Feet, available for Rs 99 for a set of two, can protect such devices from scratches while they are kept on desks or other surfaces.
Although the build quality of the device is superb, due to its big size it is certainly prone to damage due to falls-a problem common in most big screen devices. Note 2 has a Gorilla Glass 2 scratch resistant surface on the display so there would not be any need to get an additional scratch guard installed. Plus, as compared to the older Gorilla Glass the new generation of Gorilla Glass is lighter and stronger.