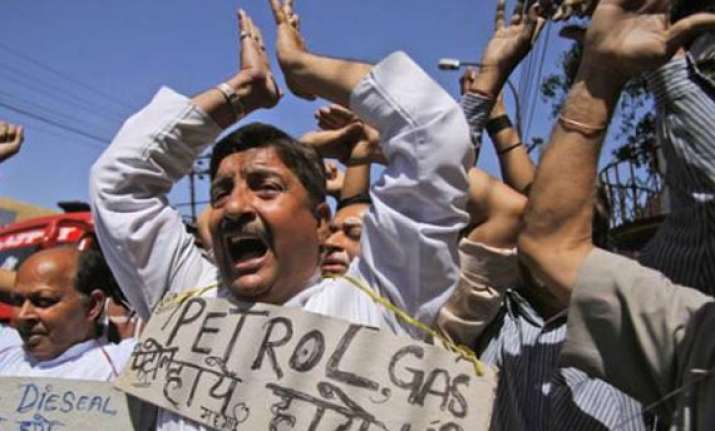 New Delhi, Feb 17: The government's decision to let the state-owned oil companies' exercise their newly bestowed pricing freedom to hike fuel prices have met with stiff opposition from parties like BJP and the left.
Demanding an immediate roll back of the hike, the Bharatiya Janata Party (BJP) has decided to hold nationwide protests. The BJP will take up the issue during the upcoming national executive meeting in Delhi on March 2.
Earlier, the UPA defended the fuel price hike by saying that the government had to resort to "tough measures" owing to "international market conditions."
The UPA ally Dravida Munnetra Kazhagam (DMK) and its chief M Karunanidhi, had earlier said in Chennai, "Despite statements condemning the hikes, prices of petrol and diesel keep increasing."
Echoing similar sentiments CPI leader, D Raja also said that the price hike would have a cascading effect on the commoners.
Slamming the hike in fuel prices, Tamil Nadu Chief Minister J Jayalalithaa had said the move amounted to betraying the middle and lower classes and made a fresh demand for changing the fuel pricing policy.
"Even before the ink had dried up after signing the hike in prices of diesel recently, the Centre is increasing the price of petrol by Rs. 1.50 and diesel by 45 paise...it amounts to betraying the poor and middle classes. I strongly condemn this anti-people action of the Central government," she said in a statement.
To this, Congress spokesperson Rashid Alvi said, "International market prices have forced the government to take such steps. The government is not happy doing this."
Monthly review of diesel prices was a "venom being thrust on people in installments," as hike in fuel prices will result in increase in prices of essential commodities, she said.
On Friday, the state-run fuel retailers hiked petrol prices by Rs 1.50 per litre and diesel by 45 paise per litre citing the rising global crude oil prices. This is the first petrol price hike in three months and a second diesel price hike in a month.
The decision to hike fuel prices has also been termed by many as "anti-people decision". "Reeling under the pressure of continued price hike of petrol, the common man has been further subjected to more hardships with this decision of the price hike," Mayawati had earlier said in a statement.
The hike in diesel price in special will put additional burden on the farmers along with a cascading effect on the prices of the food grains due to increase in transportation.