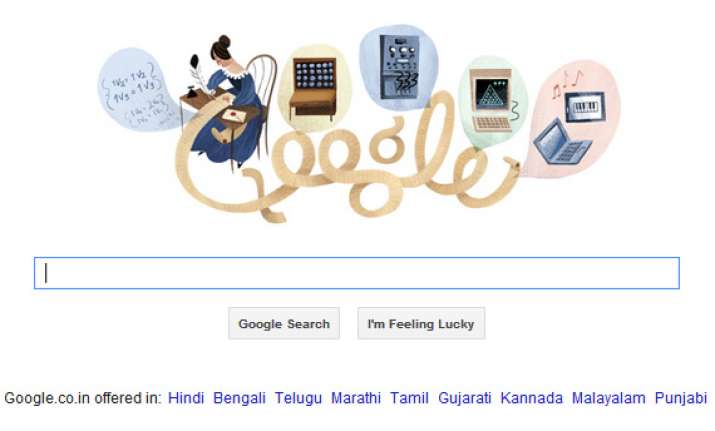 New Delhi, Dec 10: Google on Monday commemorated Ada Lovelace's 197th birthday with a fascinating doodle.
Ada Lovelace, born Augusta Ada Byron on December 10, 1815, was an English mathematician and writer widely known for her work on Charles Babbage's early mechanical general-purpose computer, the Analytical Engine. She worked on world's algorthim which makes her the world's first known computer programmer.
Widely considered to be father of modern day computer, Charles Babbage, is believed to be the father of the computer. His first proposed computer came up in 1822 for computing in the fields of astronomy and mathematics. The British government at that time gave him the funding to continue with such projects. Babbage's Analytical Engine had an arithmetic logic unit, control flow in the form of conditional branching and loops, and integrated memory, a design that continues to form the backbone of modern-day computers.
Lovelace's association with Charles Babbage, started when she translated an article by Italian mathematician and engineer Luigi Federico on Babbage's proposed Analytical Engine. She even added her own notes to the work to make it more elaborate and engrossing. She then met and corresponded with Charles Babbage on many occasions.
Ada Lovelace died at the young age of 36 on November 27, 1852 of uterine cancer.
Today's Google doodle pays tribute to her works. The doodle features Lovelace creating her computer notes. It also displays few images of antique computer machines to laptops that tells the evolution of the machine.
The Google logo is formed by the quill of the paper scroll.