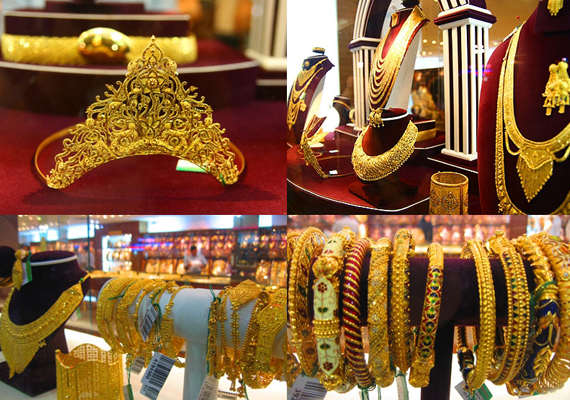 New Delhi, Aug 28: Gold prices today declined from record high to Rs 31,400 in the bullion market here today, breaking its seven-day rising spree, on reduced offtake at higher level amid a weak trend overseas.
Gold shed Rs 100 to retreat from all-time high of Rs 31,400 it touched yesterday. Silver also fell by the same margin to Rs 57,600 per kg on lack of demand from industrial units and coin makers.
Traders said sentiment turned bearish as domestic demand at prevailing higher levels dried up.
Weak trend in overseas markets, where gold declined on speculation that Federal Reserve Chairman will not commit the central bank to further stimulus even as investment holdings expanded to a record, also dampened the trading sentiment, they added.
In Singapore, gold fell 0.4 per cent to USD 1,657.50 an ounce. The price had reached USD 1,676.90 yesterday, the highest since April 13, amid expectations of further easing from the Fed.
On the domestic front, gold of 99.9 and 99.5 per cent purity fell by Rs 100 each to Rs 31,300 and Rs 31,200 per 10 grams, respectively. It has gained Rs 960 in last seven days.
Sovereign shed Rs 50 to Rs 24,750 per piece of eight grams.
Silver ready fell further by Rs 100 to Rs 57,600 per kg and weekly-based delivery by Rs 200 to Rs 58,000 per kg.
Silver coins plunged by Rs 1,000 to Rs 71,000 for buying and Rs 72,000 for selling of 100 pieces on lack of buying support.