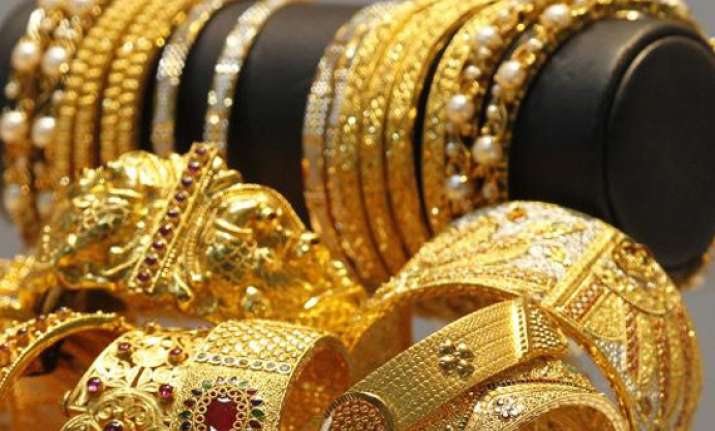 New Delhi, June 6: Gold prices on Thursday zoomed to a five-week high rising by Rs 430 to Rs 28,090 per 10 grams in the national capital on increased stockists buying, following government decision to hike import duty on the precious metal amid firm global cues.
The trading sentiment bolstered as government decided to increase import duty on gold from 6 per cent to 8 per cent to curb a record current-account deficit at a time when the World Gold Council predicts record quarterly demand for the metal in India.
A firming trend in overseas markets on strong dollar and investors shifting their funds from melting equities to bullion further influenced the trading sentiment.
Gold in international markets gained as a private jobs report showed US companies hired less workers than projected in May, spurring speculation that the Federal Reserve will keep buying bonds.
Gold in New York rose by 0.19 per cent to $1,402.70 an ounce.
With the general firming trend, silver also advanced on rising demand from industrial units and coin makers.
"The immediate impact of the gold duty cut is that the demand for the metal would shrunk. Anticipation and speculation in gold will come down... Now gold will not remain attractive as an investment option," said C.P. Krishnan, Wholetime Director with Geojit Comtrade.
He said the gold prices overseas are likely to hit $1,500 an ounce by 2014.
On the domestic front, gold of 99.9 and 99.5 per cent purity shot up by Rs 430 each to Rs 28,090 and Rs 27,890 per 10 grams, respectively, a level last seen on April 29.
Sovereigns added Rs 100 to Rs 24,200 per piece of eight grams.
However, silver ready fell by Rs 60 to Rs 44,540 per kg and weekly-based delivery by Rs 10 to Rs 43,970 per kg. Silver coins spurted by Rs 2,000 to Rs 79,000 for buying and Rs 80,000 for selling of 100 pieces.