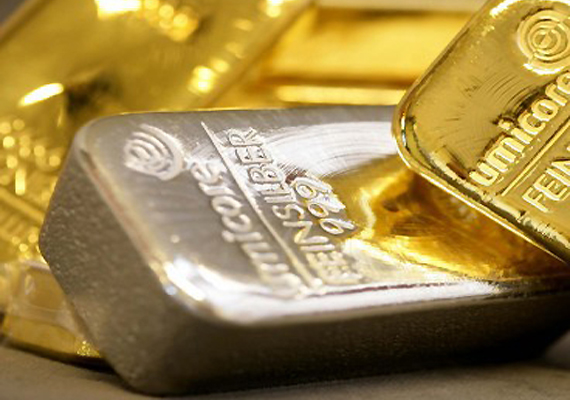 New Delhi, Feb 11: Both the precious metals, gold and silver, today fell following fall in demand at prevailing higher levels amid a weakening trend overseas.

While gold fell by Rs 115 to Rs 28,400 per 10 grams, silver lost Rs 400 to Rs 56,300 per kg on reduced offtake by jewellers and industrial units.

The trading sentiment turned bearish after gold declined in global markets as European finance ministers held back approval of a rescue package for Greece, curbing demand for commodities.

In New York last night, gold fell by USD 7 to USD 1,722.10 an ounce and silver lost 0.91 per cent to USD 33.59 an ounce.

In addition, fall in demand at existing higher levels further fuelled the downtrend in precious metals. On the domestic front, gold of 99.9 and 99.5 per cent purity fell by Rs 115 each to Rs 28,400 and Rs 28,260 per 10 grams, respectively, while sovereigns held steady at Rs 23,450 per piece of eight grams.

In a similar fashion, silver ready declined by Rs 400 to Rs 56,300 per kg and weekly-based delivery by Rs 445 to Rs 56,900 per kg.

However, silver coin remained unchanged at Rs 67,000 for buying and Rs 68,000 for selling of 100 pieces.