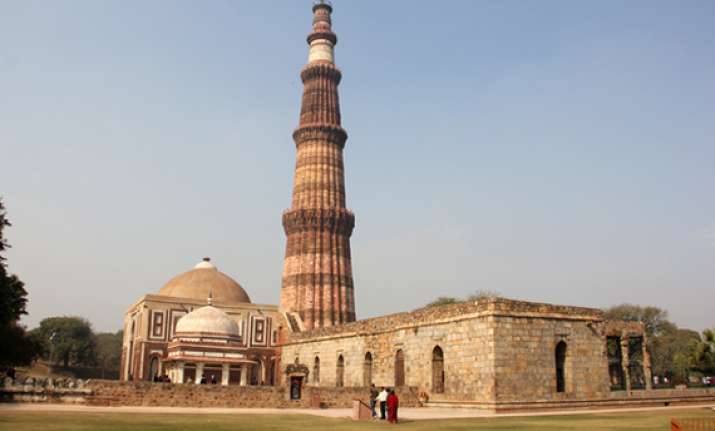 New Delhi: Archaeological Survey of India has joined hands with Google India for an endeavour to create 360-degree online panoramic imagery of 100 "nationally-important monuments" in the country like Taj Mahal, Humayun's Tomb, Khajuraho and the Ajanta and Ellora caves, etc.
The internet giant and the Ministry of Culture on Thursday signed a memorandum at the Qutub Minar complex as the first step towards the project which would see the company creating an application using its 'Street View Trekker' technology for the first time in India.
"The collaboration, which will create virtual walkthroughs of our sites, is a gigantic step and, with ASI completing its 150th year, this will prove to be a big milestone for us. The aim of this project is to bring the heritage of our country closer to the people and to disseminate among the youth our rich cultural legacy," Union Minister of Culture Chandresh Kumari Katoch said at the project's launch.
Commenting on the criteria for choosing the sites, the minister said, "100 nationally-important monuments have been chosen on priority basis… the list will soon be finalised."
Google India said this was an opportunity for them to make these monuments accessible to people in the far-flung and rural areas of the country at the click of a button and to digitally preserve the heritage for posterity.
"With this, rural India will be able to see heritage online despite time and distance constraints. Information is transforming our future and with this we seek to bring more Indians on the internet," said the Vice-President and Managing Director of Google India, Rajan Anandan. The 'Street View Trekker' has been used to create "virtual walkthroughs" for sites like Eiffel Tower in France, Grand Canyon in the US, and Mt Fuji in Japan, among others.
"With this technology, we create an online exhibition in which we have authorised data to contextualise the view and the site evolves into story-telling instead of just plain viewing," Google Cultural Institute Director Amit Sood said.
Once published, the imagery will be available on GoogleMaps and on the World Wonders site, part of Google Cultural Institute, which began some time last year.
Google India and Ministry of Culture had earlier partnered on the creation of virtual walkthroughs for the National Gallery of Modern Art (NGMA) and the National Museum in the city, the minister said.