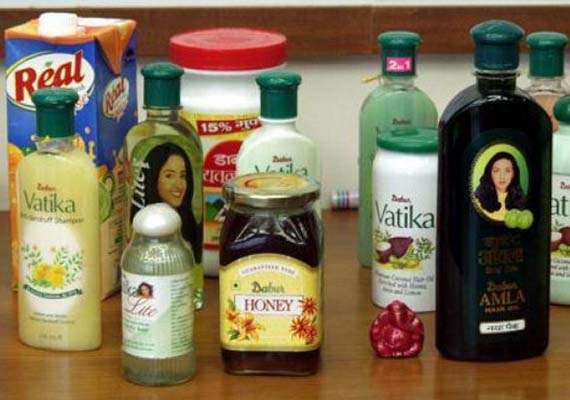 New Delhi, July 24: Dabur India Ltd has reported 24.99 per cent increase in consolidated net profit at Rs 187.04 crore for the first quarter ended June 30, 2014 led by good performance of FMCG segment, price hikes and cost-efficiency measures.
The company had reported a net profit of Rs 149.64 crore in the corresponding quarter last year.
Net sales went up 12.93 per cent to Rs 1,651.1 crore during the quarter under review from Rs 1,461.97 crore in the corresponding quarter a year-ago.
"We have managed our business dynamically through a combination of calibrated price increases and greater focus on cost-efficiencies," Sunil Duggal, Chief Executive Officer, said in a statement.
Despite signs of an economic downturn and increased competitive intensity in the market, the company has reported strong volume growth in its key categories, he added.
"Our domestic FMCG business grew at a strong 13.2 per cent driven by a volume growth of 9 per cent," Duggal said.
Consumer care business posted 14.32 per cent increase in revenue at Rs 1,343.15 crore, while food business posted a revenue increase of 18.17 per cent to Rs 249.96 crore. Retail business clocked 27.05 per cent increase in revenue at Rs 16.86 crore.
Dabur reported 12.46 per cent jump to Rs 1,444.35 crore on overall expenses front during the quarter ended June 30 this fiscal against Rs 1,284.27 crore in the corresponding quarter last year.
International business, including acquisitions, ended the first quarter with 17.5 per cent growth, led by Egypt, GCC and Nepal, the company said without elaborating.
Commenting on future outlook, Duggal said: "The macro-economic pressures notwithstanding, we remain on course to strengthen our brand portfolio and improve our competitiveness in the market place."
The company paid final dividend at the rate of Rs 0.85 per share (85 per cent) for 2012-13 fiscal aggregating Rs 173.33 crore.
Shares of Dabur India ended at Rs 174.95 per scrip, up 2.4 per cent from the previous close on the BSE.