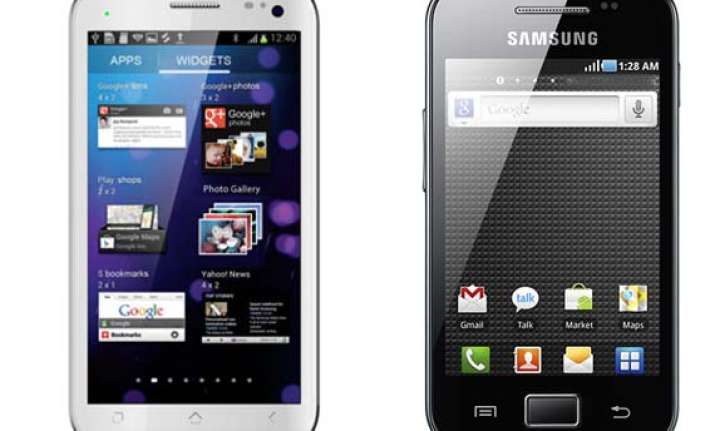 New Delhi, Jan 6: Guess which one wins?
One of my friends wanted to buy either a Nokia or a Samsung handset for under Rs 10,000. I suggested the Samsung Galaxy Ace, thinking he would like the brand. However, after considering Nokia Lumia 510 and other handsets, he ended up with a Micromax Canvas II. You might find it strange, but the Canvas II has such a spectacular feature list that it is difficult to ignore. So this time, we are comparing the Samsung Galaxy Ace with the Micromax Canvas II, both of which are identically priced at around Rs 10,000.

Looks and display
Clearly, the Canvas II is bigger, broader and heavier with its 76.5 x 147 x 9.7 mm dimensions, against Galaxy Ace's 59.9 x 112.4 x 11.5 mm size. And why not? The Canvas II comes with a huge 5 inch touchscreen while the Ace has a 3.5 inch display. Apart from the bulging camera unit, the Micromax has an otherwise good body: it has a textured rear panel for good grip and even the plastic used in its body doesn't have a cheap feel. The Canvas II's display also has a decent 854 x 480 pixel resolution, which is not great but has nonetheless become a norm for such huge displays in this price bracket.
The device has good viewing angles as well. On the other hand, the Galaxy Ace has 320 x 480 pixel resolution, which is also good considering its small screen size. Viewing angles are also good in Canvas II. So if you want a bigger screen, the choice is quite clear.