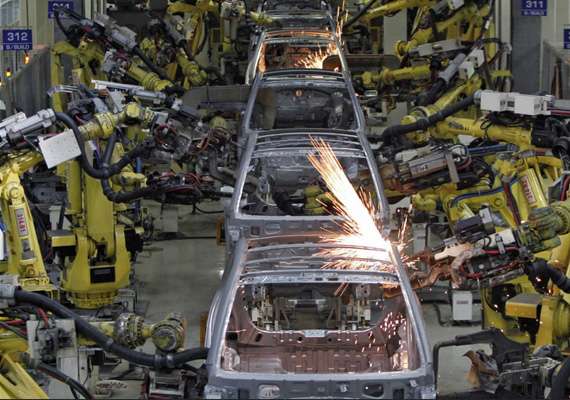 New Delhi, July 24: The slowdown in China's economy could bring down India's economic growth to 5.2 per cent from the earlier projection of 5.5 per cent for 2014 on weak external demand, says a Nomura report.
According to Nomura, a global brokerage firm, the slowdown in China could, however, help India contain its inflation and the twin deficits and thus create room for the RBI to cut policy rates.
With an economic slowdown reducing China's commodity demand, lower crude oil and commodity prices should help narrow India's current account deficit, reduce the fiscal subsidy burden and lower WPI inflation, Nomura said.
Nomura expects crude prices softening to result in the current account deficit for India improving to 2.3 per cent of GDP, from 3.1 per cent, while WPI inflation could decline to 3.8 per cent y-o-y from its current estimate of 5.4 per cent.
"In response to the improving twin deficits, falling inflation and a negative output gap, we believe the Reserve Bank of India would likely lower its repo rate to 6.25 per cent versus our base case of 6.50 per cent," Nomura said in a research note.
The rupee has depreciated by more than 10 per cent in the last one month and crossed the psychological level of 60 per dollar in June-end and touched over 61-levels in early July.
There is a widespread speculation that the ongoing volatility in the rupee would compel the central bank to raise policy rates to stem inflationary expectations.
RBI is scheduled to unveil its first quarter review of the monetary policy on July 30.
Meanwhile, China's manufacturing activity has fallen to an 11-month low in July as economic slowdown deepens in the country, an HSBC survey said.
HSBC's preliminary version of monthly purchasing managers index for the country declined to 47.7 in July from 48.2 in June. Numbers below 50 on the 100-point scale show a contraction in activity.