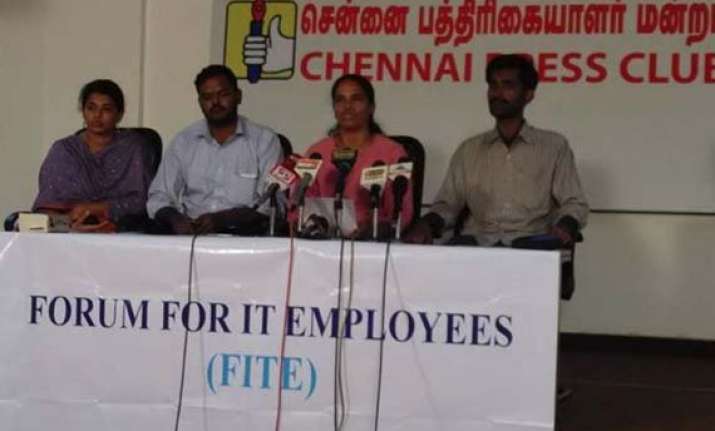 New Delhi: A Chennai-based group called Young Tamil Nadu Movement (YTNM) is protesting against the layoffs undertaken by the country's largest software exporter, Tata Consultancy Services. The group held a discussion with legal experts on Saturday to challenge the company's decision of massive layoff legally.
YTNM is also looking to mobilise employees who have lost their jobs as part of 'involuntary attrition.'
However, on its part, TCS said as a performance-driven company, workforce optimisation is a continuous process. "This happens throughout the year taking into account employee performance, business needs and people aspirations," it said.
The group has even initiated an online campaign by starting a page on social networking site Facebook titled, "We are against TCS Layoff" and that the country's largest software exporter is planning to sack "25,000 non-performers by the end of February 2015". The page now has over 5,000 followers.
A spokesperson of YTNM said the group has received calls from more than 120 persons claiming to have received a pink slip from TCS. These calls are from several cities in India like Bengaluru, Pune, Bhubaneswar, Chennai, Mumbai and Delhi.
"We have heard that TCS has sacked people by branding them as non-performers. Most of these people are in the middle to senior level bracket," the forum spokesperson said, while adding that it is bringing all these people together and speaking with senior advocates to find the right legal action that can be taken against TCS.
"I too got same trouble from TCS. My age is now 40 and I cannot get any job now in private or software...now all software companies taking less experienced now I have 14 yrs..where can I go....I need to pay housing loan and need to take for old parents myself I am diabetic my total health vanished due to night shifts and working different places," wrote an employee over the Facebook page.
The forum claimed that the employees terminated were between 30 and 40 years of age and have worked in TCS for about 10 years and said why it took TCS so many years "to say we are not productive".
"Every year, we experience an involuntary attrition of 1 to 1.5 per cent, which includes people who retire, project-based consultants and also underperformers," a TCS spokesperson said.
TCS ended the September quarter with 3.13 lakh employees with an attrition rate of 12.8 per cent.