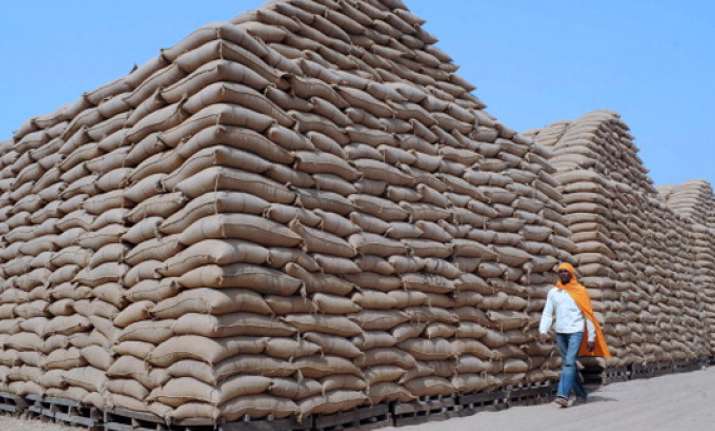 New Delhi, June 21: The Cabinet Committee on Economic Affairs (CCEA) today cleared the Food Ministry's proposal to offload 10.5 million tonnes of FCI foodgrains in the open market to control retail prices.
However, the proposal on allowing extra 2 million tones of wheat export through public sector trading agencies was not listed on the CCEA agenda for discussion.
"The CCEA has approved  allocation of 10 million tones of wheat and 0.5 million tonnes of rice from FCI godowns for sale under the Open Market Sale Scheme (OMSS)," Food Minister K V Thomas said after the meeting.
Out of 10 million tonnes of wheat, 8.5 million tones would be sold from Punjab and Haryana to bulk consumers at Rs 1,500 per quintal.
One million tonnes of wheat will be offered from state-run Food Corporation of India (FCI) centres across the country to small traders at Rs 1500/quintal plus freight.
About 4,00,000 tonnes of wheat would be allocated to states for distribution to retail consumers and 1,00,000 tonnes of the grain to co-operative at the same price plus freight.
Besides wheat, Thomas said the CCEA has approved allocation of about 5,00,000 tonnes of rice to states for retail consumers at Rs 1875 per quintal plus freight. The total subsidy for 10.5 million tonnes of foodgrains would be Rs 5,491 crore, sources said.
The decision to release foodgrains in the open market will help in containing prices of wheat and rice, which have firmed up slighly as private traders are aggressively buying wheat directly from farmers at higher than support price to meet their export demand, experts said.
This has led to lower procurement of wheat by state-run FCI and holding of stocks by farmers in anticipation of better prices in the coming months, they said, adding all these factors are impacting prices of wheat in the local markets. The FCI has huge stock of 77 million tonnes of foodgrains, against the storage capacity of around 74 million tonnes.