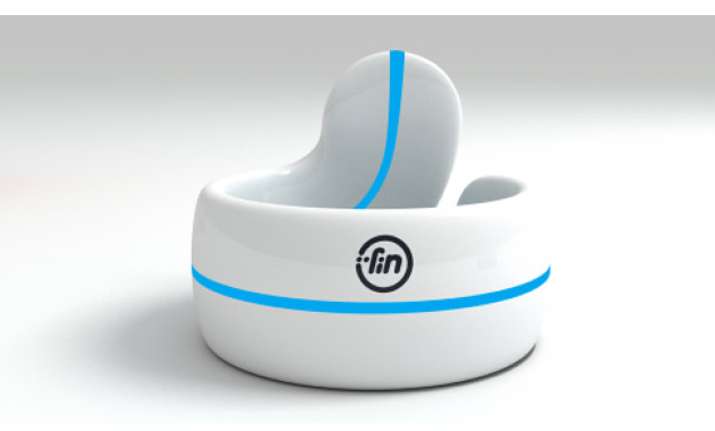 New Delhi: A Kerala-based IT company, RHL Vision, has developed a 'smart ring' to control electronic gadgets such as mobile phones, car music systems, home appliances, etc.
Officials from RHL Vision, a Kochi-based company promoted by fresh engineering graduates, gave a video presentation of its new product to the cabinet in Thiruvananthapuram on Wednesday in the presence of Chief Minister Oommen Chandy.
Appreciating the young minds, Chandy said the company made all of them proud of the young people from the IT sector.
"The presentation on 'Fin' - the smart ring has really excited all of us and it's all about a ring which is worn on one's finger and you can switch on and off electronic gadgets at home and even use a mobile phone without picking up the instrument," Chandy told reporters after the weekly cabinet meeting.
"In its attempt to seek crowd funding for a period of 45 days, the company has collected $100,000 in 40 days," Chandy added.
The company was founded by 23-year-old Rohil Dev last month at the TechCrunch CES Hardware Battlefield held in Las Vegas.
RHL Vision was selected among the top 15 companies and their product was the only one selected from India for the prestigious event.
The company's product development officer Charles S. Vincent told IANS that he was excited to present a demonstration before the cabinet Wednesday morning.
"We got 15 minutes time and the opportunity given to us has really made us feel proud of what we have done. The chief minister was also really encouraging us. Some of the ministers asked us numerous questions and wanted to know if it would be useful to the common man," Vincent said.
Company founder Rohil Dev, who could not attend the presentation as he was on his way to Spain, told IANS: "We will source the materials for this 'ring' from Taiwan and China and at the moment we plan to do the assembling in Switzerland. We are planning to sell the product at $120."
The product would hit the markets in July. The ring can be used a car's key and enables its users to attend to phone calls or control the music system without taking one's hands off the steering wheel.
It uses smart, low energy technology such as Bluetooth for communication with the connected devices.
It can transmit natural gestures as commands to any Bluetooth-connected device such as a smartphone, a music player, a gaming console, a digital interface inside a car or a television set.