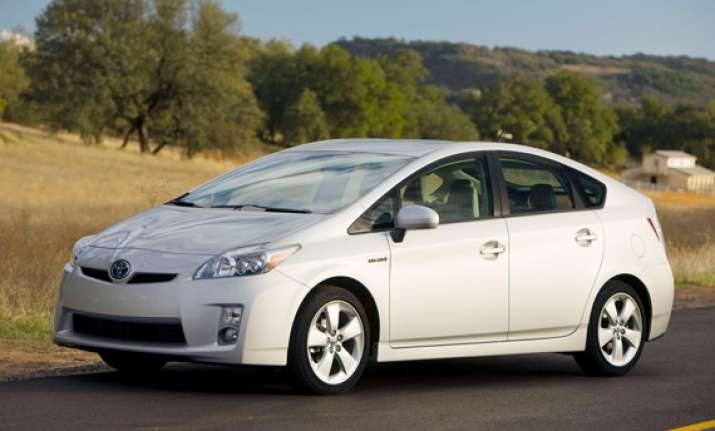 New Delhi: Toyota has announced a global recall of 1.9 million of its signature Prius hybrid cars, dealing a blow to a brand favoured by the eco-conscious, including Hollywood celebrities. In India the automaker has ordered a recall of 167 units as part of a global exercise of rectifying a software error that will affect 1.9 million units.
The recall has been announced due to a software error in the hybrid system that makes it enter a fail safe mode, the company said.
"The company is conducting this recall as a part of Voluntary Recall Code. No complaints have been received in India so far," it added.
The recall process would begin on February, 14, 2014, the company said.
"Toyota will contact the customers and repair will be carried out free of cost. The repairs are expected to take 1 to 1.5 hours," it added.
The company regrets the inconvenience caused and seeks the customer's co-operation and understanding during this time, it said.
Last year the company had recalled 1,100 units of the diesel variant of its sedan Corolla Altis in India due to faulty drive shaft. Moreover it had also recalled another batch of Corolla in India to rectify defective airbags as part of a global recall of 17.3 lakh vehicles.
In 2011, Toyota had recalled 41,000 units of its sedan Etios and small car Liva in India to replace faulty inlet pipe to fuel tank.
Automobile companies have been pro-active in recalling vehicles in case of safety issues since industry body SIAM initiated a voluntary recall policy in July 2012.
Last year General Motor India had recalled 1.14 lakh units of its multi-purpose vehicle Chevrolet Tavera, manufactured between 2005 and 2013, to address emissions and specification issues.
The company had also recalled 4,000 units of the diesel variant of its Sail model to address a potential engine issue.