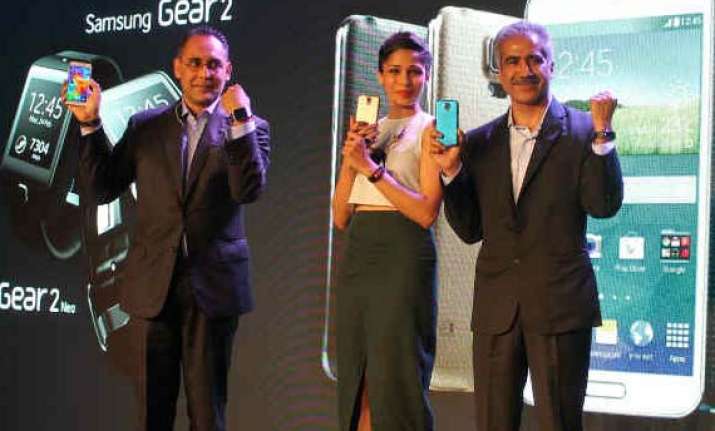 New Delhi: Samsung has launched its latest flagship Galaxy S5 in India. The company has unfortunately not revealed the pricing of its new smartphone. But reports suggest that it is likely to cost around Rs 51,500. The smartphone will soon be made available for pre-orders.
Along with S5, Samsung also launched the Samsung Galaxy Gear Fit, Samsung's fitness band and Samsung Galaxy Gear 2, the second iteration of the smartwatch. Samsung Galaxy Gear Fit is priced at Rs 15,900 while Samsung Galaxy Gear 2 comes for Rs 21,900.
The South Korean company has launched Exynos-powered octa-core version of the Galaxy S5 in India, revealing the variant for the first time.
The new smartphne from Samsung comes with a fingerprint scanner on the home button, a heart rate sensor placed near the 16-megapixel camera, and the IP67 certification that makes it dust and water-resistant. Changes in terms of design include a new back panel which is now being perforated, and available with four colours (Charcoal Black, Shimmery White, Electric Blue and Copper Gold), along with optional designer back panels. The handset is compatible with Samsung Gear Fit, which is the firm's first curved, Super AMOLED health-focused wristband. 
Samsung Galaxy S5 features a 5.1-inch Super AMOLED display with a 1080x1920 pixel full-HD resolution and runs Android 4.4.2 KitKat out-of-the-box. The device comes comes with 2GB of RAM and will be available in 16GB and 32GB inbuilt storage models, with microSD card expandability up to 64GB.
The SGS5 sports a 16-megapixel rear camera with HDR (for video as well), and a 2.1-megapixel front-facing camera. The rear camera can record UHD video @30 fps along with HDR and video stabilization functionality.
Connectivity options include 4G LTE, Wi-Fi 802.11 a/b/g/n/ac with MIMO functionality, ANT+, Bluetooth 4.0, USB3.0, NFC, and Infrared remote functionality. It features a 2800mAh battery, rated to deliver 21 hours of talktime, and 390 hours of standby time.
One of the key pillars of the Samsung Galaxy S5 is the fitness technology that's contained within it. The device comes with a pedometer, diet and exercise records, and a new, built-in heart rate monitor (under the flash of the camera and requires you to hold your finger on it for a few seconds to get a reading of your pulse).
The phone gets its juice from a 2800mAh battery with a claimed standby time of 390 hours and talk time of 21 hours. It is available in four different colours: charcoal black, shimmery white, electric blue and copper gold.
At the same time, Samsung also launched the Gear 2, Gear 2 Neo, Gear Fit and the S Band wearables along side the new flagship.