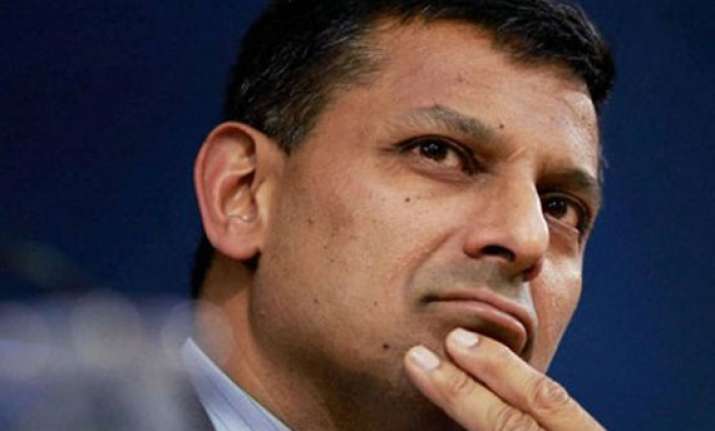 New Delhi: Reserve Bank of India governor Raghuram Rajan is expected to keep interest rates unchanged when he unveils the second bi-monthly monetary policy today.
Given that inflation continue to remain at uncomfortable levels along with consistently high food prices, the central bank may adopt a less hawkish stance of not tinkering with the policy rates in a hurry.
Yesterday, Rajan met prime minister Narendra Modi at 7, Race Course Road on Sunday. However, he called it a courtesy call. 
Currently, the repo rate, the rate at which RBI lends to commercial banks, stands at 8 per cent, and has remained unchanged since January 28,when RBI raised it by 0.25 per cent. Similarly, the rate at which the central bank pays to banks for parking minimum deposits, also remains untouched.
Earlier, finance minister Arun Jaitley met with Rajan to discuss the prevailing economic situation as well as the issues related to prices.
While the finance minister pledged to contain the price rise, Rajan too agreed that curbing inflation is a task that the government and the RBI are engaged with.
However, there's not much that Rajan could do to tame the rising food prices, triggered by supply-side constraints and rising demand from rural areas due to higher disposable incomes, apart from raising key rates.
Finance minister Arun Jaitley said in his Facebook post on Sunday, "Reviving the growth momentum, containing inflation and altering the pattern of growth to gainful employment is today an overriding priority."
For the March quarter, the Indian economy grew at 4.6 per cent, making it the eighth successive quarter in which the world's third largest economy in terms of purchasing power parity registered growth below 5 per cent.
It may be noted that wholesale inflation in April rose a slower-than-expected 5.20 per cent, lower than the consensus estimate of 5.7%. However, the retail inflation, , or inflation based on the Consumer Price Index (CPI), accelerated 8.59% in the same month from a year earlier, more than the consensus estimate of 8.5% and the 8.3% pace in March.
The government and the RBI are also facing a big threat of a below-average monsoon this summer which is likely to stoke inflation and hit a sluggish economy dependent on the elements because half the country's farmland lacks irrigation.
Below average rain could also affect planting of crops such as soybeans, rice, corn and cotton, pressuring economic growth that has nearly halved to below 5 per cent in the past two years.
Agriculture accounts for 14 per cent of Indian economy. To cut dependence on rains, India plans to expand irrigated farmland by at least a tenth by 2017.