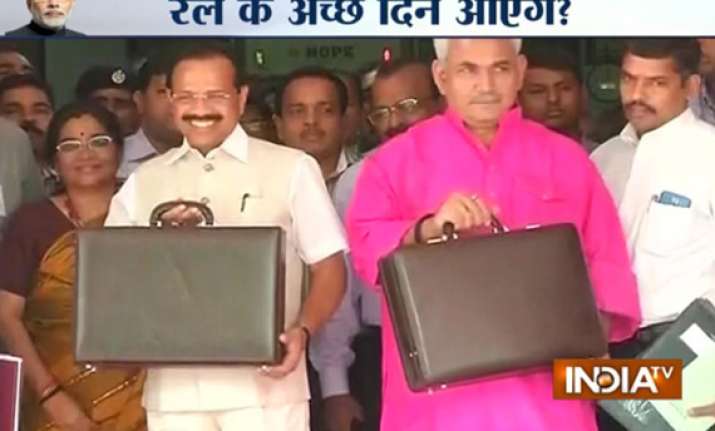 1:21 pm: Train connectivity to Char Dham.
1:20 pm: ​Paperless office of Indian railways in 5 years. Digital reservation charts at stations.
1: 20 pm: One ticket to reach from Delhi to Srinagar. Uddhampur to Banihal by bus and Banihal to Srinagar by train.
1:19 pm: Mumbai local to get 860 new, state-of-the art coaches. 64 new EMUs to be introduced.
1:18 pm: 27 Express trains to be introduced.
1:17 pm: 5 Jansadharan , 5 Premium AC trains to be introduced.
1:15 pm: Ministry of Railways: Internet & Workstation facilities on select trains.
1:14 pm: I propose WiFi systems on all A1 category stations: Sadananda Gowda.
1:13 pm: Monitoring of Eastern & Western Dedicated Freight Corridor Projects; Target of nearly 1000 kms of construction contracts.
1:12 pm: Railways Minister: To set up surveys to double, triple lines over 10 routes
1:10 pm: Ready-to-eat meals to be introduced in phased manners: Gowda
1:09 pm: Railway Minister: To add 64 new AMUs in Mumbai to ease traffic
1:07 pm: Bulk of future projects will be financed through PPP mode: Gowda
1: 06 pm: I propose setting up a Railway University for technical and non-technical subjects. Tie-up with technical institutions: Minister
1:05 pm: Solar energy to be harnessed through PPP by utilizing rooftop spaces of stations and railway buildings-Sadananda Gowda
12: 59 pm: 4,000 women RPF personnel will be deployed: Sadananda Gowda.
12: 58 pm: Ticket bookings through post offices and mobile phones will be popularised, also coin operated ticket machines: Sadananda Gowda.
12: 57 pm: Special e-ticketing system to be introduced, 1.2 lakh users can log in on railway sites: Sadananda Gowda
12: 55 pm: Sadanand Gowda: To launch high-speed rails to connect 9 major cities
12: 54 pm: Sadananda Gowda: To raise train speeds between several cities to 160-200 km/h
12:53 pm: To introduce bullet train between Mumbai-Ahmedabad
12: 51 pm: I propose to introduce pre-cooked and ready to eat meals of reputed brands: Sadananda Gowda.
12: 50 pm: Will introduce RO drinking water in trains and on stations: Sadananda Gowda.
12: 46 pm: Gowda: Battery operated cars for handicapped and elderly on platforms
12: 45 pm: Cleaning on 50 major stations to be outsourced, bio-toilets to be increased on trains
12: 43 pm: Food quality will be improved: Railway Minister
12: 40 pm: CCTV's to be use to monitor cleanliness: Railway Minister
12: 39 pm: Need to explore alternative sources of resource mobilisation and not depend on fare hike alone: Rail Minister. 
12: 38 pm Railways Minister: Had a surplus of Rs 3,783 crore last fiscal
12: 37 pm Railways Minister: Passenger earnings fell short by Rs 968 cr vs estimates
12: 36 pm Ministry of Railways-The Tariff Policy adopted lacked rational approach. Loss per passenger/km increased from 10 paisa/km (2000-01) to 23 paisa/km (2012-13)
12:35 pm Sadananda Gowda: Bulk of future projects to be financed via PPP route
12: 33 pm: Sadananda Gowda: Seeking Cabinet nod to allow FDI in Railway Sector
12: 30 pm: Railways Minister: Spent Rs18,400 cr on doubling 5,050 km tracks in 10 years
12: 29 pm: Indian Railways spent Rs 41,000 crore on laying of 3,700 km of new lines in last 10 years: Railway Minister.
12: 27 pm: Focus in past has been on sanctioning projects rather than completing them: Railway Minister
12: 25 pm: Gross traffic receipts in 2013-14 was Rs 12,35,558 crore; operating ratio was 94 per cent, says Gowda presenting Rail Budget.
12: 20 pm: Sadananda Gowda: Of the 676 projects sanctioned, only 356 remain completed
12: 20 pm Railways Minister: Rail Traffic Policy lacked rational approach
12: 19 pm Railways Minister: FY15 Estimate for surplus seen at Rs 602 crore
12: 18 pm: Sadananda Gowda: Require Rs 5 lakh cr to complete ongoing projects
12: 17 pm: Sadananda Gowda: Four projects are 30 years old which are yet incomplete
Social obligation of Railways in 2013-14 was Rs 20,000 crore: Gowda.
Sadananda Gowda: We spend 94 paise on every one rupee earned
Sadananda Gowda: Targets to become largest freight carrier in the world
Sadananda Gowda: Every citizen of India is rushing to connect with Indian Railways
Sadananda Gowda: Trains that run in India are capable to move the entire population of Australia.
Sadananda Gowda: Target to become the largest freight carrier of the world
Rail budget --Sadananda Gowda: Grateful to PM Modi for entrusting this responsibility
12:16 am: Indian Railways is the soul of Indian economy: Gowda.
12:06 pm: Railway Minister Sadananda Gowda starts presenting the Rail Budget.