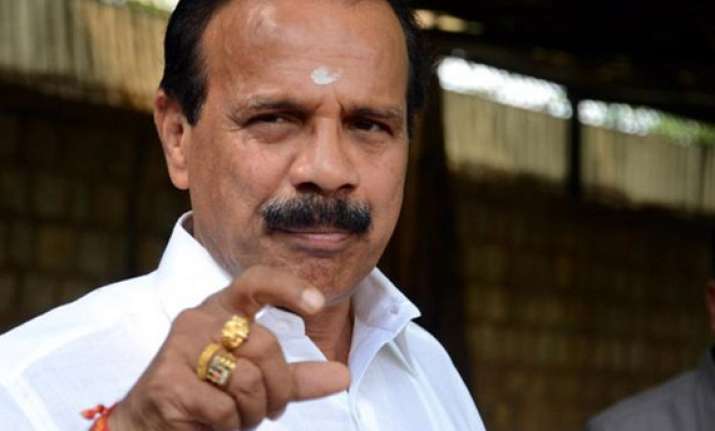 New Delhi: BJP has hailed the first Railway Budget of the Narendra Modi government as "revolutionary" and "remarkable" that will put the Railways back on track with priorities on safety, hygiene and speed.
Describing the Rail Budget as "remarkable" in many ways, party President and Home Minister Rajnath Singh said it is full of innovative ideas and Railway Minister Sadananda Gowda deserves credit for it.
"I am confident that this Rail Budget will put the Indian Railways back on the fast track of development and expansion," he said.
Singh said the Rail Budget sets safety, hygiene and speed as priority areas for the Indian Railways which is "definitely a positive start".
Party Vice President Mukhtar Abbas Naqvi described the Rail Budget as a "revolutionary bullet budget" and said "the journey of railways has begun on a world-class track".
Welcoming the Budget, BJP's media cell in-charge Shrikant Sharma said the dream of turning the country into a modern and magnificent India will be fulfilled by the government.
"The initiatives taken on modernisation, bullet trains, upgrading technology and improving food quality are some major steps that are commendable. The dreams that Atal Behari Vajpayee saw in connecting the whole country will be accomplished by Modi Government through the railway network," he said.
Criticising Congress, he said their "frustration" is coming out by way of criticism of the Narendra Modi government.
"The Congress had failed to fulfil its promises and announcements made as it could complete only 30 per cent of their policies announced in the last 60 years. Our government is that of fulfilling promises and not merely of making announcements...
"The British laid 54,000-km of railway tracks in the country but the Congress could add only 10,000 kms to it, despite ruling the country for nearly six decades," he said.