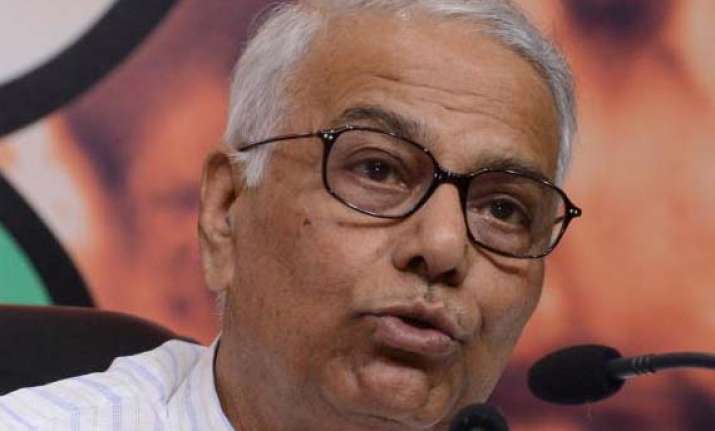 New Delhi: Senior Bharatiya Janata Party (BJP) leader Yashwant Sinha on Sunday accused finance minister P. Chidambaram of "running the economy to the ground" and posed an 18-point questionnaire to him on price rise, economic growth and job fronts.
Sinha, himself a former finance minister, claimed that the high economic growth rate witnessed in the first four years of UPA-I (2004-2007) was largely on account of measures initiated by the NDA government and not because of any steps taken by UPA governments. "You really harvested what was sown by us," he said.
"Is it fact that after 10 years of misrule by the UPA government economic growth rate has once again slowed down drastically...the GDP growth rate for seven consecutive quarters has been below 5%?" he asked.
He said the GDP growth rate has registered a mere 4.7% in October-December quarter of 2013-14. Manufacturing and mining registered a decline of 1.9% and 1.6% during the quarter, he said further.
Sinha said these numbers would have been worse but for 7% increase in the personal, community and social services category "reflecting irresponsible government spending rather than real economic expansion".
Taking a dig at Chidambaram, who had announced he would not be contesting this elections, Sinha asked: "Is it a fact that the markets have celebrated your announcement of not standing for the elections; that on 19 March 2014 when you made this announcement the BSE Sensex shot up by 125 points, that the forex market was also delighted and the rupee has strengthened considerably against the dollar since then."
On the issue of employment and job creation, quoting a survey by NSSO (National Sample Survey Organisation), Sinha said that over 6 crore job opportunities were created between 1999-2000-2004-05 (NDA government) as opposed to 1.5 crore between 2004-05 to 2011-12 (UPA governments).
"Is it a fact that consumer price inflation has averaged around 10% per annum between 2008 and 2013?" Sinha asked Chidambaram. Isn't this is the highest inflation rate in any major economy in the world and hasn't high inflation pushed millions of Indians below poverty line? he further asked. "Is it a fact that you have been made the finance minister thrice and that every time you have ended up running the economy to the ground and weakened the foundations of the Indian economy? he asked Chidambaram.
Sinha alleged the UPA government allowed the fiscal deficit to cross all limits of sustainability in 2008-09 through "unproductive and irresponsible" government spending. "Is it a fact you have drastically reduced plan and productive allocations in the budget and taken recourse to questionable means to maintain fiscal deficits around 5% of GDP and that you made a mockery of the Fiscal Responsibility and Budget Management Act?"
There is a crisis of confidence in our economy, therefore the consumption as well as investment is less, Sinha said.
In the press conference, Sinha also attacked Prime Minister Manmohan Singh on his comments that "money does not grow on trees". The Prime Minister's comment came in the wake of a hike in price of oil and petroleum products on 21 September 2012.
"We indeed know money does not grow on trees. You (the Prime Minister) did not tell us anything new," Sinha said. But when Congress vice-president Rahul Gandhi demanded a hike in the number of subsidised LPG cylinders from 9 to 12, the Prime Minister did not think of economics at that point, Sinha alleged.
Chidambaram had last week said that the markets were rallying on account of UPA government's corrective measures for the economy. Countering this, BJP leader Arun Jaitley had said that that the Congressmen were living in denial.