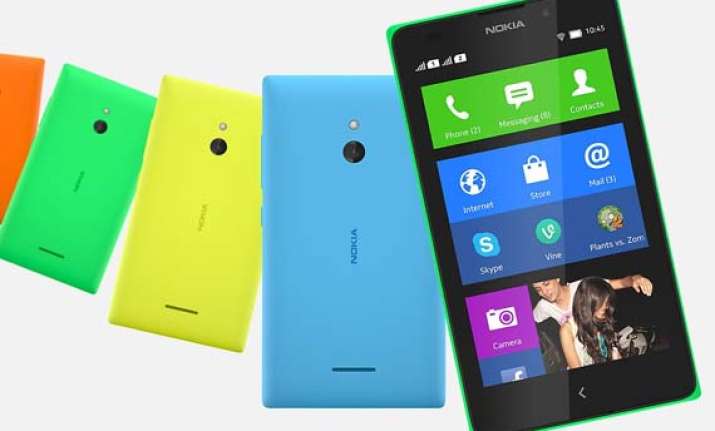 New Delhi: Finnish handset maker Nokia has said that it will roll out two new Android-based devices X+ and XL in the second quarter (April-June) of this year.
Just months before being absorbed into the Microsoft empire, Nokia has released its first Android mobile phones. The devices, called the Nokia X, X+ and XL, were unveiled at the Mobile World Congress trade show in Barcelona last month, priced between 89 euros and 109 euros.  
In India, the company recently launched the Nokia X, which costs Rs 8,599. The Nokia X is a low-end device and comes with a four-inch screen with an IPS display, a three-megapixel rear camera, 512MB of RAM and 4GB of storage.
The X+ has the same four-inch screen, but adds an SD card slot, with a 4GB microSD card included. There's 768MB of RAM, 4GB of storage and a three-megapixel rear camera. 
The XL has a five-inch screen, 768MB of RAM, 4GB of storage, and two cameras: a two-megapixel front-facing camera and five-megapixel rear equivalent.
All three run dual-core 1Ghz Snapdragon processors from Qualcomm.
The devices are unique in the sense that they won't be powered by Nokia's traditional choice for its lower-end handsets, the Series 40-based Asha OS, or its preferred smartphone operating system, Windows Phone. Instead, the X family will be running a forked version of Android. Nokia is using AOSP for the X family, which means anyone buying the X, XL and X+ won't get access to the million or so apps available on Google Play. However, Android devs can port their Play apps to the handset in what Elop said would be "a matter of hours if even that", and the company will be offering a curated selection of apps through the Nokia store on the devices. 
"India is one of the fastest growing markets for smart phones in the world. With the launch of Nokia X, we are adding more ammunition to our smartphone portfolio. We believe Nokia X is a unique combination of Nokia quality and experiences, Microsoft services and Android apps," he said.
The devices are available in green, red, yellow, red and bright blue.