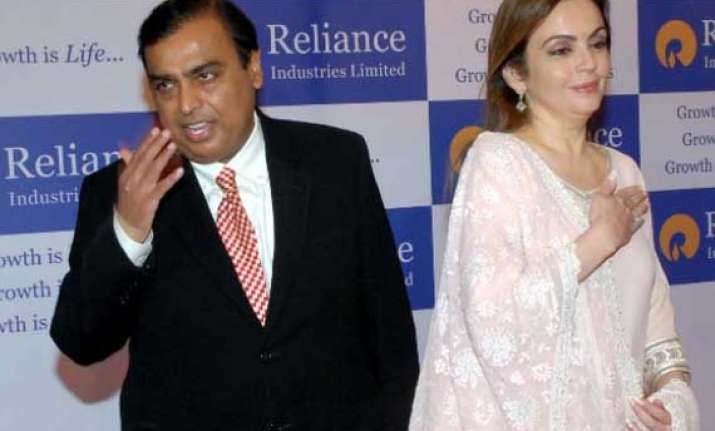 New Delhi: Nita Ambani, wife of Reliance Industries chairman Mukesh Ambani, has joined as a director on the board of directors of Reliance Industries Ltd. At the 40th annual general meeting of Reliance Industries Limited, chairman Mukesh announced his wife Nita Ambani's induction into the company's board.
Nita, 50, would be replacing Ramnik H. Ambani, the elder brother of group's late chairman Dhirubhai Ambani, who retires at the age of 90 years, having served it since inception.
"The board of directors of RIL has recommended the appointment of Nita M. Ambani, the Chairperson of Reliance Foundation, as a director on the board of RIL," the company had said in a statement.
RIL's board, headed by Mukesh Ambani, 57, currently has his cousins Nikhil R Meswani and Hital R Meswani, besides Ramniklal H Ambani.
Nita Ambani was already the chair of non-profit Reliance Foundation, and has led the group's social sector initiatives, spanning health, rural transformation, environment and sports.
"She was at the forefront of ecological development of RIL's Jamnagar refinery site in Gujarat by implementing a greening plan, covering 3.2 million trees over 2,000 acres," the company said, adding the world-class township there was also her endeavour.
Even as Reliance Industries only listed Nita Ambani's personal contributions to the group, her new role as the first lady member on the board of the $67-billion company would also fulfil a key requirement of the new Companies Act, 2013. Under it, every listed company and those public firms that have a paid up capital of 100 crore or more must have at least one woman director on its board. The rule also applies to companies that have a turnover of 300 crore or over.
RIL said Nita Ambani has also contributed much to conceptualising and guiding its corporate identity, besides developing centres of excellence in the field of education with 13 schools, including the Dhirubhai Ambani International School. A trained bharatanatyam dancer, she recently powered the launch of Indian Super League, a new franchise-based, eight-team football tournament that is styled on the lines of Indian Premier League of the cricketing world.