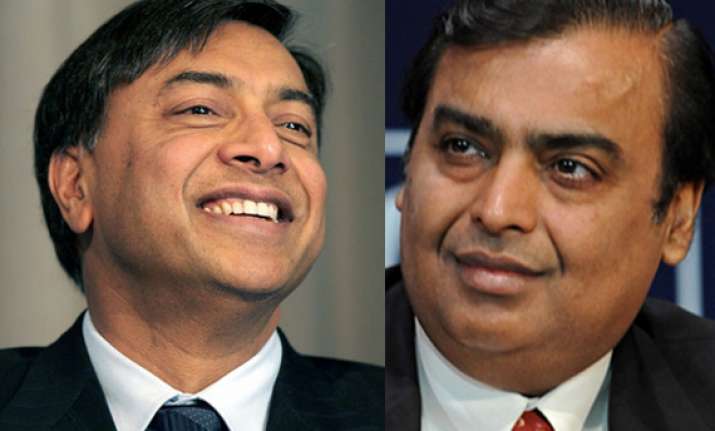 New Delhi: Reliance Industries chairman Mukesh Ambani has been reportedly ranked first in Forbes' list of 'world's billionaires' in India. The list includes 56 India based billionaires.
Mukesh's younger brother Anil Ambani is ranked 281st on the list with a net worth of $5 billion.
However, Forbes said the richest Indian person has seen "precipitous decline" in his fortune since 2008 when his networth was $43 billion and he when was the world's fifth richest person. "Regardless he remains India's richest person and is still bullish; says he plans to invest $25 billion in his businesses over the next two years," Forbes said.
The other Indian billionaires in the list are ArcelorMittal Chairman and CEO Lakshmi Mittal who is ranked 52nd with a networth of $16.7 billion, Wipro Chairman Azim Premji ranked 61st with $15.3 billion, founder of Sun Pharma Dilip Shanghvi ranked 82nd with $12.8 billion, HCL co-founder Shiv Nadar is ranked 102nd and has a net worth of $11.1 billion.
Hinduja brothers came in at the 122nd with $10 billion. Birla group chief Kumar Birla is ranked 191st and has a networth of $7 billion, Forbes said the ranks of the world's billionaires continued to scale new heights and stretched to new corners of the world.
The list has 1,645 billionaires with an aggregate net worth of $6.4 trillion, up from $5.4 trillion a year ago. The list features a record 268 new ten-figure fortunes, including 42 new women billionaires. In total, there are 172 women on the list, more than ever before and up from 138 last year. The year's biggest dollar gainer was Facebook's Mark Zuckerberg, whose fortune jumped $15.2 billion, to $28.5 billion, as shares of his company soared.
The top ten billionaires in India are: