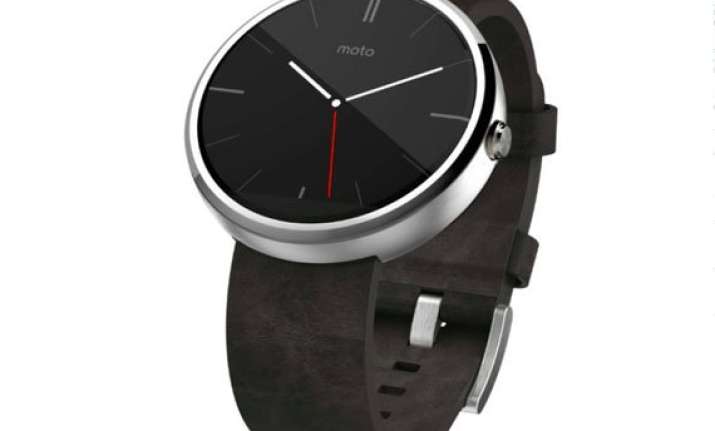 New Delhi: Motorola has unveiled its first Android smartwatch, the Moto 360. The company says the $249 timepiece promises to be the first Android Wear device you'd actually want to wear.
The wristwatch is classy and without flash or flair. It has a round screen, stainless steel case and leather strap, made by Chicago tannery Horween, and looks more like a large high-end watch than a piece of technology.
It has a round round stainless steel shell and a leather strap, made by Chicago tannery Horween. It's lighter (just 1.7 ounces), smaller and comfortable. The Moto 360 is 46 mm in diameter by 11mm deep.
It is waterproof to IP67 standards but the rest of the specifications are very similar to the other Android Wear watches.
The 360 has a 1.65-inch display (320 x 290 resolution) that runs almost completely edge to edge, encircled by only the smallest of bezels. The display offers good viewing angles both indoors and outdoors.
The Moto 360 connects to your Android phone via Bluetooth and can deliver a world of information —everything from emails, notifications and sports scores.
The watch features a hidden heart rate monitor on the back of the watch, which can measure the wearers heart rate 30 times a day to track heart health using a Motorola app while measuring activity, steps and distance covered. It can also handle incoming and outgoing calls, track your steps, and install thousands of apps. For the Moto 360, you need to install and run the Android Wear app on your phone.
When not connected, though, you can still access features like "Show Me My heart Rate," "Stop Watch," "Timer" and "Show Me My Steps." To do so you just tap the watch face and say, "Okay Google" and then your command or select from the scrollable menu.
The Moto 360 is functionally just like every other Android Wear device. You can also perform basic Google searches, set reminders, take notes, and get quick directions to the nearest Starbucks.
Motorola has also unveiled the Moto 360's wireless charging base that ships with the smart watch. You just drop the smart watch in on its side and it starts charging. The company claims you can get a full day of battery life on a single charge.
Specs:
Compatibility - smartphones running Android 4.3 or higher
Operating system - Android Wear
Display - 1.56" 320 x 290, 205ppi, backlit LCD, Corning Gorilla Glass 3
Watch case dimensions - 46mm diameter x 11.5mm high
Weight - leather band model: 49g
Battery - 320mAh, all day (mixed use), wireless charging with charging dock included
Processor - TI OMAP 3
Memory - 4GB internal storage, 512MB RAM
Connectivity - Bluetooth 4.0 Low Energy
Sensors - pedometer, optical heart rate monitor (PPG)
Water resistance - IP67
Other - single physical button, vibration motor, dual microphones.