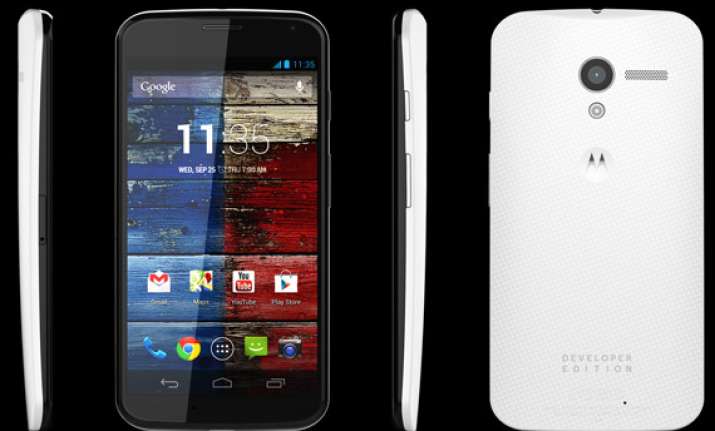 New Delhi: Buoyed by the success of its popular budget smartphone Moto G, Motorola is all set to launch its flagship Moto X in India.
The news was confirmed by Motorola's official Twitter handle which said, "In next few weeks Moto X will launch in India and Australia."
It is still not clear when the company will launch the phone and at what price.
Motorola Mobility also announced that till date the Moto G budget Android smartphone is the company's most successful launch ever. The tweet said, "Moto G now Motorola's most successful launch."
The Moto X is a customisable Android smartphone that comes out of the collaboration between Motorola and Google.
The phone's display is a 4.7-inch AMOLED display, with a resolution of 720 x 1280 and a pixel density of 312ppi. It is lower than the full HD 1080p resolution of the leading Android devices like the HTC One and Galaxy S4. The phone delivers good color reproduction and the auto brightness regulates the display well in indoor light and in a dark room.
The device is powered by a 1.7GHz dual-core Qualcomm MSM8960Pro Snapdragon processor along with 2GB of RAM. It has 16GB of inbuilt storage, which is non-expandable. It also comes with a 10-megapixel rear camera accompanied by an LED flash and a 2-megapixel front-facing camera.
The phone also claims twenty-four hour battery life on a 2200mAh cell, thanks to those lower wattage internals.
The Moto X measures 129.3 x 65.3 x 10.4mm and is easy to operate in one hand, due to its moderate size as well as a power button and volume rocker on the right side, right where your thumb can get at them.
The phone brings all the special apps and enhancements to Google services Motorola has to offer. The most significant feature of the device is voice recognition software which lets you use Google Now hands free. After training the phone to recognise your voice and yours alone, saying "Ok Google Now," gets the Moto X's attention. From there you can issue any of the standard commands Google Now understands.
The phone also offers Motorola's Assist app which adds contextual services to Android, just like the Do Not Disturb mode in iOS 6. When you're driving, sleeping or in a meeting, Assist can automatically silence and reply to calls.
The phone also comes with Motorola Connect – a Chrome browser extension that works a bit like iMessage on the iPhone. Once installed, it pops up little alerts when you receive texts or have an incoming call, missed call or voice mail.