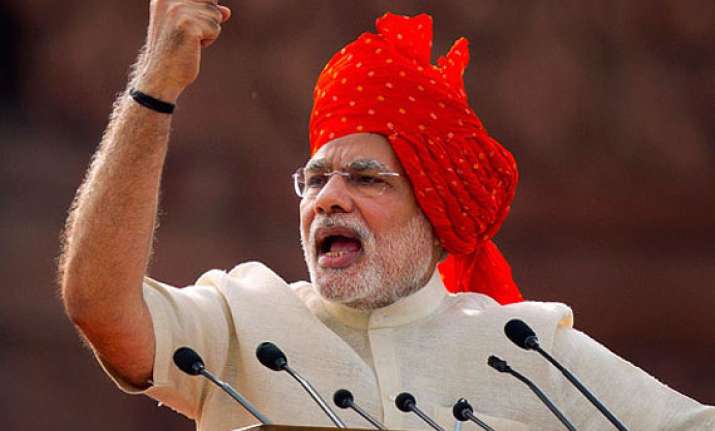 New Delhi: At a time when Prime Minister Narendra Modi is reaching the milestone of completing a hundred days of office, more economic indicators are pointing towards good times. 
On one hand, leading rating agency Moody's is expecting the GDP to hit the 7 per cent mark with few modest economic reforms, on the other the government is making inflation control its top priority, thus aiming to give more in the hands of consumers.

After two consecutive years of sub-5 per cent growth, India's economy seems to be on the cusp of recovery with leading rating agency Moody's expecting the GDP to hit 7 per cent mark with few modest economic reforms.

"We expect GDP growth to hit 5.1 per cent in the three months to June. However, this is still well short of potential GDP growth, which is currently around 6 per cent, but could easily lift towards 7 per cent with some modest economic reforms," says Glenn Levine, Senior Economist, Moody's Analytics.

The ratings agency further said that the country under the new government was in early stages of a cyclical upturn, and even without much government help, the GDP should grow by around 5 per cent this year and close to 6 per cent in 2015.

Last week, even most of the top global brokerage firms such as Deutsche Bank, Barclays, Nomura and Religare have raised their growth estimates for the Indian economy for the quarter ended June 30 and FY16.

These brokerages expect India's gross domestic product (GDP) to grow 5.6-6% in April-June from the same period a year ago, marking the fastest quarterly growth in nearly two years.

Global brokerage firm Nomura, which sees nearly 15 per cent upside in the Sensex in the next one year, has revised its FY16 real GDP growth forecast to 6.8 per cent YoY vs. 6.5 per cent previously.
Earlier, Finance Minister Arun Jaitley said controlling food inflation is a "top priority" for the government. He said the government has taken a slew of measures on the supply side to cool the price rise in food items like the decision on the APMCs.

India's GDP grew at 4.6% in January-March. The government is expected to release data on GDP growth on August 29.

Following a continuous uptick in demand, Indian manufacturing activity grew at its quickest pace in 17 months in July, leading to swelling to order books. The index (a measure of factory production) rose to 53, up from 51.5 in June, signalling improved business conditions as companies scaled up production.

Based on the data compiled from monthly replies to questionnaires sent to purchasing executives in around 500 manufacturing companies, the index found out that business and consumer sentiment had improved after the elections.

Betting on recovery, brokerages have upgraded sectors such as autos and industrials to Overweight. Banks, consumer discretionary, and oil companies are considered to be most preferred picks.

Asia's third-largest economy is currently under pressure from high inflation, a weak currency and a fall in foreign investment. There is a strong need for the country to sustain consistent growth levels of 8-9 per cent to provide enough jobs for India's growing population.