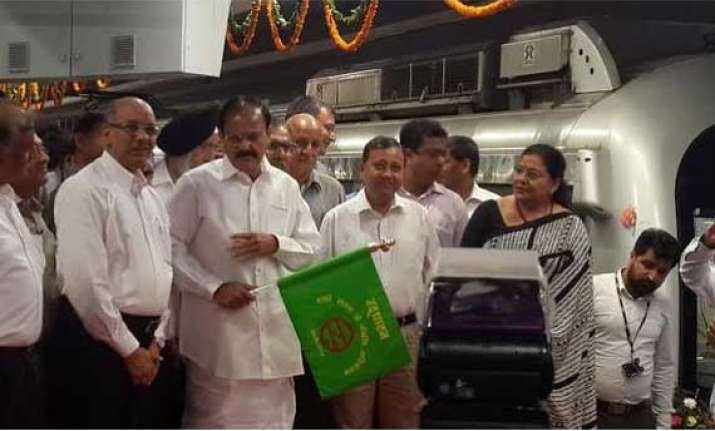 New Delhi: The much-awaited Mandi House to Central Secretariat Metro section was thrown open to the public today by Union Urban Development Minister Venkaiah Naidu.
The Minister flagged off the first train, operated by a woman driver, on this route from Mandi House Station at 9:30 AM and then himself took a ride on the train along with Delhi Metro Rail Corporation Managing Director Mangu Singh and other senior officials and media persons.
The metro section will open at noon today for the general public.
The 3.2 km-long underground metro section from Central Secretariat to Mandi House is part of the 9.37 km long Central Secretariat to Kashmere Gate line, which is an extention of the Badarpur corridor (22 km) of Phase two.
This section comprising three stations-Central Secretariat, Janpath and Mandi House-was completed in a span of 36 months within the stipulated cost.
"I feel very proud that DMRC has started the Mandi House to Central Secretariat Metro rail today. I congratulate Delhi Metro authorities, Delhi Governments and all the workers and those who made this work successful.
"This is one of the important steps that DMRC has taken since 2002 for improving lives of the people of the national capital. When the Phase III Delhi Metro, with construction of 140 kms of metro rail is completed, it will significantly change the way we travel in the national capital region," Naidu told reporters at Central Secretariat Metro Station.
The Minister noted that quick and comfortable travel is the essence of urban life. "Metro services combined with other efficient modes of transport will reduce hardship of urban travel. One of the major challenges is management of urbanisation," he said.