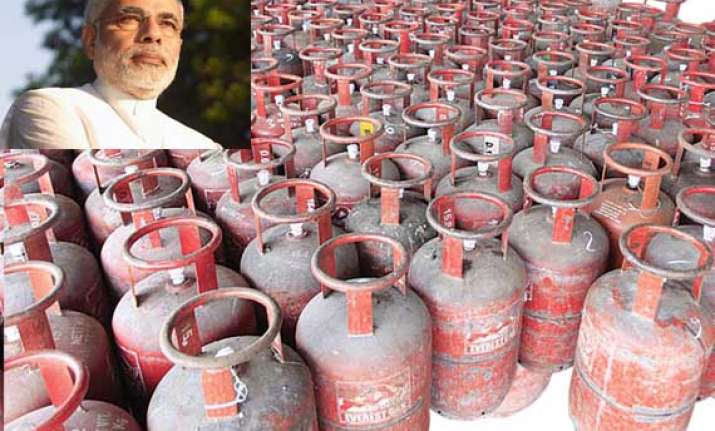 New Delhi: After rail fare hike, get ready to swallow another "bitter bill" by the Narendra Modi government.
The oil ministry is considering a proposal to hike the price of subsidised LPG every month by Rs 5-10 per cylinder and subsidised kerosene by 50 paise to Rs 1 per litre. The move is meant to curtail the losses incurred by the government on under-recovery of these fuel items.
Every rupee increase in the price of LPG refills would reduce the under-recovery of oil marketing companies by an estimated Rs 100 crore, while a Rs 1 increase in kerosene price would lead to a Rs 850-crore annual reduction in the under-recovery.
At the moment, for kerosene, the under-recovery is Rs 32.87 per litre, and for domestic LPG, Rs 432.71 per cylinder.
The subsidy burden on LPG alone during 2013-14 was Rs 46,458 crore, up from Rs 39,558 crore registered in 2012-13.
A final call on the issue will be taken by Cabinet Committee on Political Affairs (CCPA).
The proposal has come at a time when the Indian basket of crude oil has jumped 4.55 per cent to $111.75 a barrel on June 23 as compared to $106.88 per barrel on June 2. Every dollar increase in the global crude oil price puts up additional burden of Rs 3,300 crore on diesel and Rs 400 crore on LPG and Rs 700 crore for PDS kerosene.
In the current financial year, the government is expecting the subsidy burden on kerosene to the tune of around R29,000 crore, and for LPG it should be around R47,000 crore at the average crude oil price of $107 per barrel.
The diesel decontrol policy – hiking high speed diesel (HSD) prices by 50 paise every month – was one of the smartest moves by the UPA-II ministry in January 2013. The decision has proved to be good, without too much of a bickering, with diesel prices in Delhi rising to Rs 57.28 per litre in June from Rs 47.65 per litre in January 2013.
Given the fact that recent rail fare hike has not gone well with the citizens of the country, it remains to be seen how this staggered increase in LPG and Kerosene pricing will work with the ordinary man.