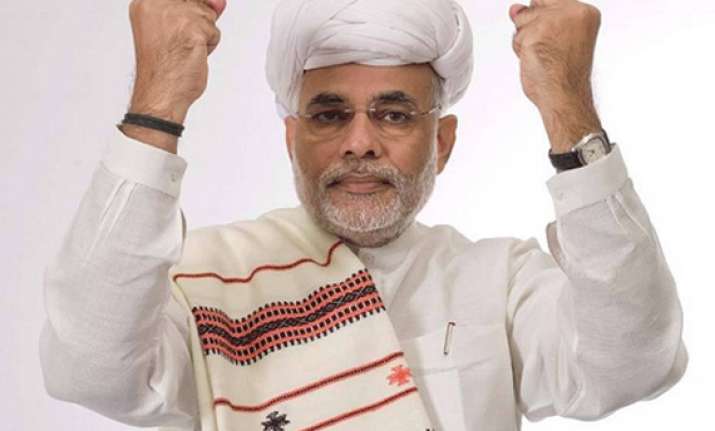 New Delhi: Prime Minister Narendra Modi will on Thursday launch Jan Dhan Yojana, a mega financial inclusion plan under which bank accounts and RuPay debit cards with inbuilt insurance cover of Rs 1 lakh will be provided to crores of persons with no access to formal banking facilities.
Plans are afoot to open as many as 1 crore bank accounts on the first day of the launch of the Pradhan Mantri Jan Dhan Yojana (PMJDY).
Besides the main launch in the capital, 76 other functions are being organised at different places to mark the occasion. The functions to be held at state capitals and major district headquarters will be attended by Union Ministers and state Chief Ministers.
The Prime Minister has already sent 7.25 lakh emails to bank officers informing them about the financial inclusion scheme PMJDY, which he had announced in his Independence Day address to the nation.
Public sector banks, according to an official release, will organise more than 60,000 camps in rural and urban areas on the launch day.
The scheme seeks to provide two accounts to 7.5 crore identified households by August 2018.
On the occasion of the launch, Prime Minister will also visit an exhibition on Technology and Financial Literacy will be organised in the capital.
A film on 'Financial Inclusion' will also be screened and the Prime Minister will unveil a Logo and a Mission Document on Financial Inclusion. He will dedicate the mobile banking facility on the basic mobile phone (USSD) to the nation.
Finance Minister Arun Jaitley, Minister of State for Finance Nirmala Sitharaman, RBI Governor Raghuram Rajan and other senior officials will attend the function, said a release.
The PMJDY has been conceived as a national mission on financial inclusion with the objective of covering all households in the country with banking facilities and having a bank account for each household.
The main features of the PMJDY scheme include Rs 5,000 overdraft facility for Aadhar-linked accounts, RuPay Debit Card with inbuilt Rs 1 lakh accident insurance cover and minimum monthly renumeration of Rs 5,000 to business correspondents who will provide the last link between the account holders and the bank.
The first phase of the mission, starting this month, would end in August next year.
The second phase will start from 2015 till 2018, covering aspects such as micro insurance and pension schemes like 'Swavalamban'.
Some of the Phase II activities would also be carried out in Phase I. In addition, the coverage of households in hilly, tribal and difficult areas would be carried out.
While the existing banking network would be geared up to open bank accounts of the uncovered households in both rural and urban areas, the banking sector would be expanding itself to set up an additional 50,000 Business correspondents, more than 7,000 branches and more than 20,000 new ATMs in the first phase, the release said.