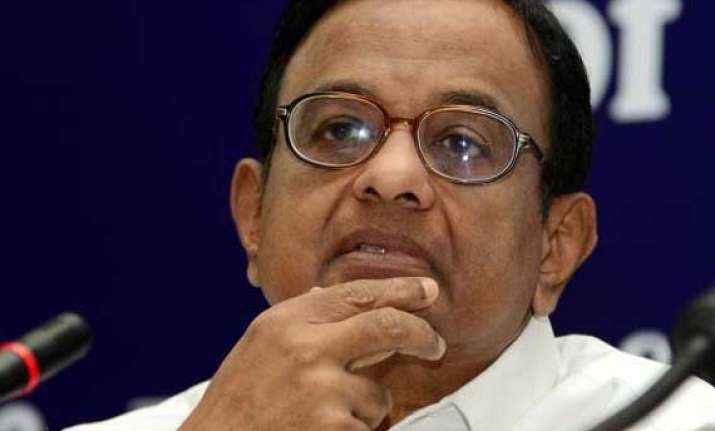 New Delhi: Finance Minister P. Chidambaram will be walking a tightrope when he presents an interim budget for the coming fiscal year on Monday. And whichever way you look at it, the interim budget (or vote-on-account) proposals would have relevance, as they give insight into the ways the government will dole out funds to woo voters and tax cuts to support the industry.
In this election year, a vote on account will be nothing but a caretaker budget, which will keep the government ticking over till the elections are over and as the change of guard happens. It will be formality as the finance minister will only present proposals for expenditure for the next few months till a new government takes over and presents a full-fledged budget.
Given that the country's economy is on a continued slowdown mode and in the current fiscal year 2013/14 is likely to register 4.5 per cent growth at best, the finance minister is expected to take measures which would halt the process of decline.
Some of the likely steps that the finance minister may announce in this interim budget would be in terms of more fund allocation for rural areas, heath, roads, in addition to food subsidies.
He may announce a cut in factory-gate duties on products like autos to support the manufacturing sector, extension of an interest subsidy on bank loans to exporters, farmers, and tax concessions for poorer regions.
No doubt, there is much more for Chidambaram to do when it comes to putting the country's economy back to the growth path. After three consecutive years of rates above 9 per cent starting in 2005-06, India's GDP growth rate was only 6.9 per cent in 2008-09 as a result of the world-wide recession. At present, India's growth "remains trapped in a low range" and the country is likely to see a GDP growth of 5.3 per cent in next fiscal, a marginal improvement from this financial year, says a Standard Chartered report.
It is likely that the finance minister will take this opportunity to highlight some of the economic achievements of the past 10 years, which could be between 12 and 18 pages.
Reports suggest that Chidambaram is likely to project a fiscal deficit target of 4.2 percent of gross domestic product for coming 2014/15 fiscal year and a near 6 per cent GDP growth.
In addition, the fiscal deficit is likely to be around 4.8 percent of GDP for the current fiscal year, boosted by spending cuts, and a larger than expected revenues in spectrum sale.  The recently ended telecom spectrum auction has fetched the government Rs 61,162 crore after 10 days of fierce bidding, falling just short of the amount bid for 3G airwaves in 2010 as top operators Bharti Airtel and Vodafone India protected their turf against aggressive newcomer Reliance Jio Infocomm, which won enough frequencies to start offering voice services.
A report published by Reuters suggest that the government is likely to cut budgeted expenditure by 550-650 billion rupees in sectors like roads, metro rail, defence and power sectors to meet the deficit target. It also said the government may defer oil, fertiliser and other subsidies worth nearly 1 trillion rupees to the next fiscal year.
Overall, it seems that the finance minister will do a balancing act to adapt to the needs of this new economy.