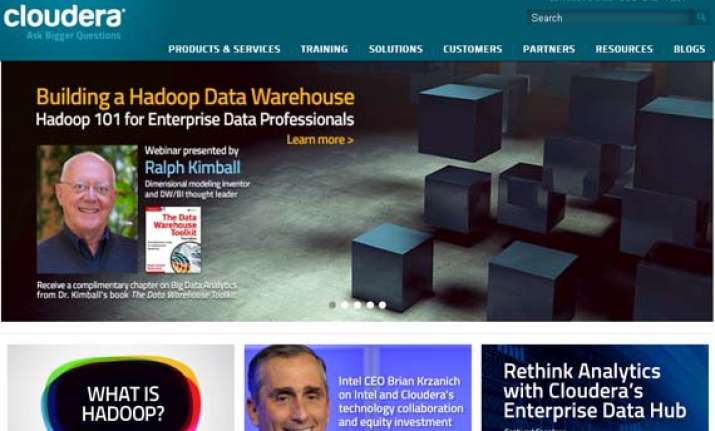 New Delhi: Just over a year after launching its own Hadoop distribution in the United States, Intel is discontinuing it, and instead opting instead to support Cloudera's distribution as the preferred Hadoop distribution for Intel server environments.
The microprocessor giant is backing this technology partnership with tens of millions of dollars from Intel Capital, making it Cloudera's largest strategic investor. Intel Capital could be sinking more than $90 million into Cloudera.
Cloudera announced last week it had raised $160 million from a group of investors, after Bloomberg reported on a round rumored to include Intel and be worth more than $200 million.
The deal seems to be a win-win for both the companies. Cloudera needs capital and Intel's huge sales force to keep up its engineering efforts and grow the company internationally. Intel makes data center equipment like chips, motherboards and networking switches. But the company has lacked software that complements that equipment, and the Cloudera investment bulks up its data-center product stack.
Cloudera will develop and optimize Cloudera's Distribution including Apache Hadoop (CDH) for Intel architecture as its preferred platform and support a range of next-generation technologies including Intel fabrics, flash memory and security. In turn, Intel will market and promote CDH and Cloudera Enterprise to its customers as its preferred Hadoop platform, accoridng to Intel's announcement. 
Intel will also have a presence on the board of directors of Cloudera, which is expected to go public this year.