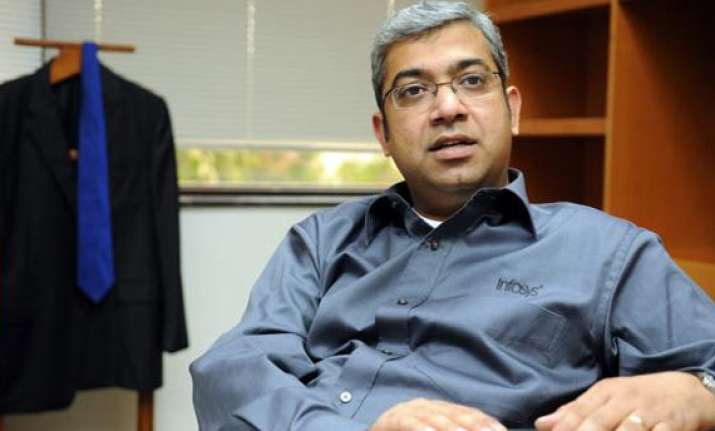 New Delhi: Within six months of joining iGate as CEO, Ashok Vemuri will get a performance bonus of $175,000 (about Rs. 1.10 crore) for his strategic initiatives, which helped the US-based outsourcer grow revenues by over 10 per cent in the December quarter.
Vemuri, who joined the US-based outsourcing firm in September last year, will get $28,000 (about Rs. 17 lakh) in recognition of his strategic initiatives and speed of implementation during 2013, iGate said in a filing to the SEC.
This is in addition to the annual performance based incentive of $147,000 (around Rs. 91 lakh), it added. Besides, the company's compensation committee approved Vemuri's annual performance-based incentive compensation for 2014 with a target annual bonus of $500,000.
The actual annual bonus payable to Vemuri for 2014 will be based upon the company's achievement of certain revenue, EPS (earnings per share) and EBITDA (earnings before interest, tax, depreciation and amortisation) targets set by the compensation committee, iGATE said.
This could range from 0-200 per cent of the performance based compensation target, it added.
Vemuri joined iGate on September 16, 2013 after its former CEO Phaneesh Murthy was sacked for not disclosing a relationship with a subordinate. Vemuri, employed initially for a five-year term, will get an annual base salary of $1.3 million (around Rs. 80 lakh) along with an annual cash bonus.
iGate revenues rose by 10.2 per cent at $299.3 million in October-December, 2013 from $271.6 in the same quarter of 2012.
In the December quarter, iGate completed restructuring, which according to Vemuri will help the firm better leverage the enormous talent, institutionalise the deliver engine, increase focus of the sales team and identify client issues faster to drive growth.
The committee has also revised the salary of its HR head Srinivas Kandula to Rs. 1.4 crore ($224,404) from Rs. 1 crore ($160,288) based on recommendations made by Vemuri.
His performance-based target bonus has also been increased to Rs. 70 lakh ($112,202) from Rs. 50 lakh ($80,144) with a maximum payout of 150 per cent of the target for the current year.
Vemuri's also recommended increasing compensation of CFO Sujit Sircar's salary to Rs. 1.66 crore ($266,880 ) from Rs. 1.2 crore ($192 ,346) for 2014 was also accepted.
Sircar's performance-based target bonus for 2014 has also been increased to Rs. 83 lakh ($133,841) from Rs. 72 lakh ($115,408) with a maximum payout of 150 per cent of the target.
The compensation committee also approved payment of annual performance-based incentive compensation for 2013 in the amount of Rs. 90 lakh ($144,260) for 2013.