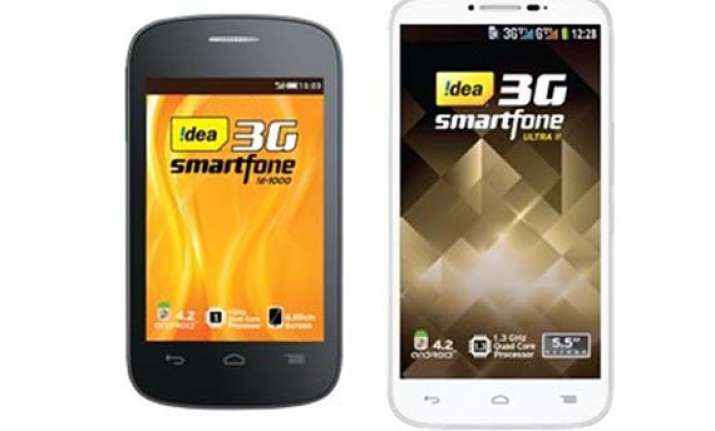 New Delhi: India's third largest private telecom operator Idea has launched a 3G-enabled smartphone, ULTRA II with a 5.5-inch screen, priced at Rs 12,500. At the same time the company also launched another product aimed at lower end of spectrum, a 1GHz dual-core entry-level 3G smartphone called Idea !d 1000.
Idea ULTRA II comes with a 5.5-inch screen and is powered by a 1.3 GHz quad core processor. The dual-SIM smartphone runs Android Jelly Bean 4.2. It has an 8 MP rear camera with HDR and 2 MP front camera with LED flash. The phone is powered by a 2500 mAh battery.
On the other hand, Idea !d 1000 has a 3.5-inch screen and is powered by a 1 GHz dual core processor and runs Android Jelly Bean 4.2 OS. The dual-SIM phone has a 2MP camera and an internal memory of 4GB, expandable to 32 GB. It is priced at Rs 5,400.
"Lack of availability of affordable 3G smartphones with high-end features is the deterrent to mobile data growth in India. Idea has tried to bridge this gap by offering the best value for money 3G devices, in addition to our superior 3G products, services, and network coverage," Idea Cellular CMO Sashi Shankar said.
With these two additions, the company says it now has a portfolio of 15 3G smartphones between 3.5 and 5.5-inch screen sizes.
Key specs of the Ultra II:
- 5.5-inch HVGA TFT touchscreen
- Android Jelly Bean 4.2
- 8MP and 2MP cameras
- 1.3GHz quad core
- 1GB RAM
- 2500mAh battery
Idea !d1000:
- 3.5-inch qHD TFT touchscreen
- Android Jelly Bean 4.2
- 2MP camera
- 1GHz dual core
- 512MB RAM
- 1300mAh battery