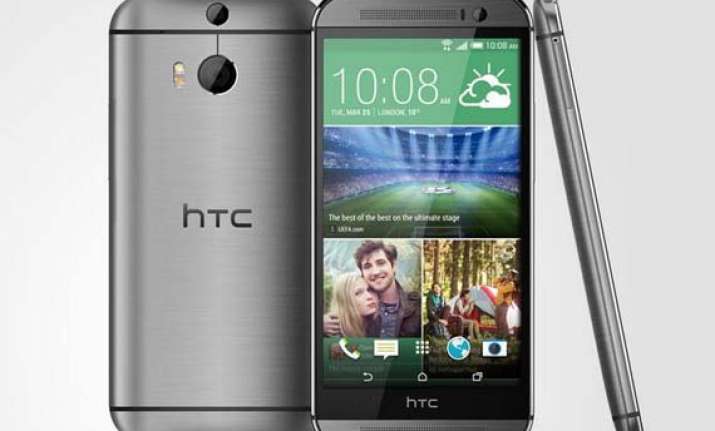 New Delhi: HTC has launched its 2014 flagship smartphone, the One (M8), a successor to last year's beautifully-designed HTC One smartphone, this time with a bigger screen, a sleek design, and an improved camera.
The device is debuting in 'Gunmetal Gray,' 'Glacial Silver,' and 'Amber Gold,' with a unibody all-metal design. The HTC One M8 is slightly heavier and wider than last year's model.
The company has also revealed that the HTC One (M8) Google Play Edition will be up for pre-order at the Play Store starting Tuesday for $699 (Rs 42,250 approximately).
The M8 is an Android 4.4 KitKat smartphone packing a Qualcomm Snapdragon 801 2.3GHz quad core processor, has 2GB of RAM, and includes either 16GB or 32GB of onboard storage with up to 128GB expandable microSD card storage. The phone supports LTE, Bluetooth 3.0, NFC, 802.11ac Wi-Fi (that's rare for a smartphone) and an IR blaster.
The M8, like the Moto X, comes with lots of low-powered sensors, including an accelerometer, ambient light sensor, and a touch screen sensor. These features let you unlock the phone by tapping the screen twice, or letting apps access that data to determine how active you've been -- all without draining the battery. In addition, there is also a barometer for detecting changes in air pressure immediately around you.
For imaging, the smartphone uses the same 4-megapixel UltraPixel technology that was found in last year's HTC One. The camera has HTC's UltraPixel module with 2.0 um pixels and a 1/3-inch sensor, shooting at f/2.0 with a 28mm lens. This time around, it comes with a second camera that collects additional depth data on each image. HTC claims that the M8's second camera gives users the ability to refocus any photo you take. The feature works well in a shot where everything is in focus and you want to emphasize a particular person or object.
In addition, you can also alter your photo's angle by tilting the screen with Dimension Plus.
The dual flash feature of M8 is designed to balance skin tones like the one on the iPhone 5s, and it also adds a Slow Motion mode for HD slo-mo video capture. There are also full manual controls for things like ISO and exposure.
The new device by HTC also comes with gesture control called Motion Launch, which is a series of gesture controlled shortcuts to let you activate the screen, answer calls, and turn the lock screen.
Other features include improved BoomSound front-facing speakers and a redesigned BlinkFeed that comes with a new SDK for partners to add in their own media content to the social news feed delivery system.
The M8 comes with a Dot View case that uses the Motion Launch gestures to provide essential information at a glance. It can display things like texts, emails, calls and weather notifications without activating the screen, in a retro, dot-matrix style readout.
The HTC One (M8) comes with a body that's '90 percent metal' and has the same stunning looks like its predecessor.
The M8 will be available in the US through mobile carriers AT&T, Sprint, T-Mobile and Verizon. The new flagship smartphone from HTC has been priced at $649 off-contract (16GB), which translates to roughly Rs. 39,250.
For M8, the Taiwanese company is planning an aggressive marketing campaign, including heavy use of television ads. The goal is to reach tech-savvy consumers and trend-setters who are likely to recommend the phone to friends.