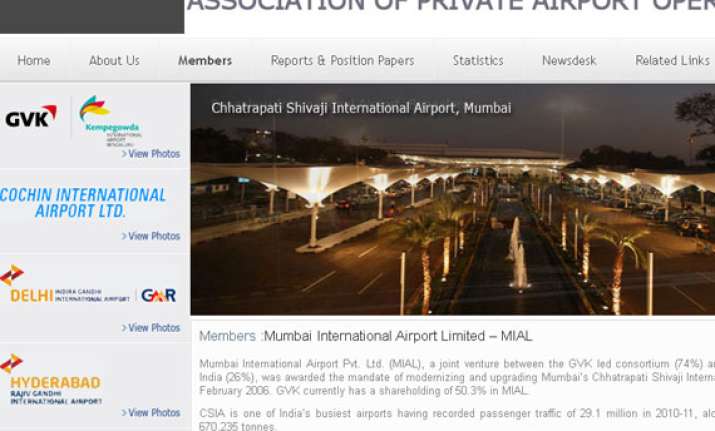 New Delhi: Mumbai International Airport Pvt. Ltd. (MIAL), a GVK-Led Consortium, on Wednesday awarded 1.16 million square feet of land parcel at the airport for Rs. 580 crore to Oasis Realty Pvt. Ltd. for commercial development.
This transaction is part of the process of overall commercial development of 22 million square feet of the airport in phases over a period of ten years, GVK said in a press release.
This transaction has been finalised at the rate of approximately Rs. 106 crore per acre which translates to total of Rs. 580 crore for this parcel at approximately Rs. 5,000 per square foot of built-up area, it said.
"GVK SkyCity", a master-planned, mixed use development with state-of-the-art planning and architecture, urban design and landscape is an ambitious project set to redefine the face of Mumbai.
GVK SkyCity includes uses like luxury, first class, mid-market and budget hotels, serviced apartments, convention centre, entertainment centre, retail, office spaces, etc.
Announcing the award of the contract, GVK Reddy, Executive Chairman, MIAL said, "Our vision for GVK SkyCity is to develop a vibrant 24x7 business and leisure hub and a global convention and hospitality destination. It is located in heart of Mumbai and is well connected to all parts of Mumbai and Mumbai Metropolitan Region both existing and proposed high speed-high volume traffic system (Western Express Highway, Andheri Ghatkopar Kurla Link Road, Metro-1, Metro-3, etc). GVK SkyCity aspires of being the most eco-friendly large scale development."
The tenants will be encouraged to value practices such as energy and water conservation, waste management and the improvement of indoor air quality, he further said.
GVK-Led Consortium took over CSI airport on May 3, 2006 under Operation, Management and Development Agreement (OMDA) executed between GVK-Led Consortium and Airports Authority of India (AAI) where operation, development, management, designing, construction, upgradation, modernisation and financing of airport is undertaken by GVK under a right of 30ც years.