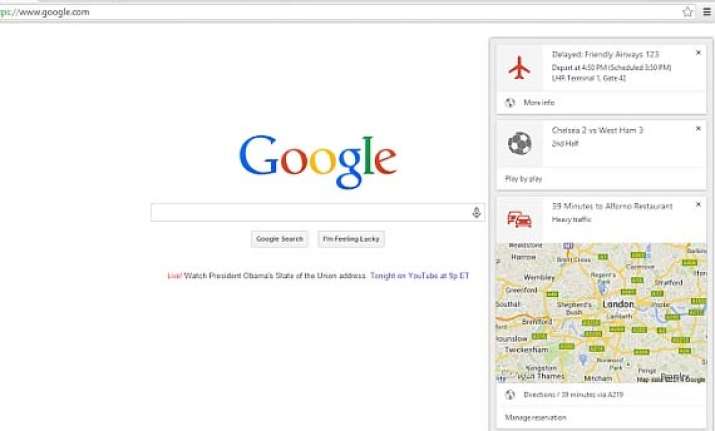 New Delhi: Google has started rolling out its Google Now cards platform to the general-release versions of the Chrome desktop browser.
"Starting today and rolling out over the next few weeks, Google Now notifications will be available to Chrome users on their desktop or laptop computers. To enable this feature, simply sign in to Chrome with the same Google Account you're using for Google Now on Android or iOS," Google said.
The new desktop feature applies to the PC, Mac and Chrome OS versions of the browser, and can be enabled by signing into desktop Chrome with the same Google account you use for Google Now in Android or iOS.
Google Now cards come pretty handy as they pop up important information as and when users need them on their Android phones. The cards can reveal anything from sports scores to weather updates to package delivery alerts. It all depends on what you search for (be it on your phone or desktop).
According to Google, Now on Chrome shows a subset of the cards you see on your mobile device, which uses your device's location. However, you can turn off Google Now in Chrome, at any time.
More details can be found from the 'Google Now Cards in Chrome' support page.