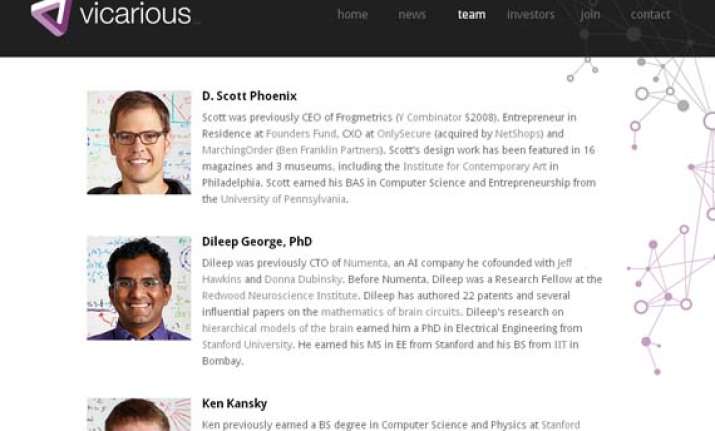 New Delhi: Some of the best known minds from the Silicon Valley are joining forces to help a small tech startup create a digital brain.
The startup wants to create software that 'thinks and learns like a human', and for this it is building up a program that mimics the brain's neocortex.  
Vicarious, a four-year-old San Francisco-based startup, claims to be "building software that thinks and learns like a human". According to the Wall Street Journal, Facebook's Mark Zuckerberg and Tesla's Elon Musk have just invested $40 million in the company.
Other investors in the startup include Peter Thiel, a PayPal billionaire, whose Founders Fund targets cutting edge technology; Ashton Kutcher, actor and tech investor, and Facebook co-founder Dustin Moskovitz.
The neocortex is the top layer of the cerebral hemispheres in the brain of mammals. It is approximately 3mm thick and has six layers, each involved with various functions. These include sensory perception, spatial reasoning, conscious thought, and language in humans.
The company says it is developing "machine learning software based on the computational principles of the human brain. Our first technology is a visual perception system that interprets the contents of photographs and videos in a manner similar to humans. Powering this technology is a new computational paradigm we call the Recursive Cortical Network."
The company has already managed to create software that will solve Captcha, the online tests used by many websites to supposedly identify humans from computers. Through this program Vicarious was able to achieve success rates up to 90 per cent on modern Captchas from Google, Yahoo, PayPal, Captcha.com, and others.
The investment marks another big step in companies investing heavily in artificial intelligence. Earlier in January IBM said it will invest over $1bn to create the Watson Group, a 2,000-employee division dedicated to developing its self-learning super-computer.
Company founder Scott Phoenix told the Wall Street Journal if the firm is successful with its current project, Vicarious will have created 'a computer that thinks like a person except it doesn't need to eat or sleep.'