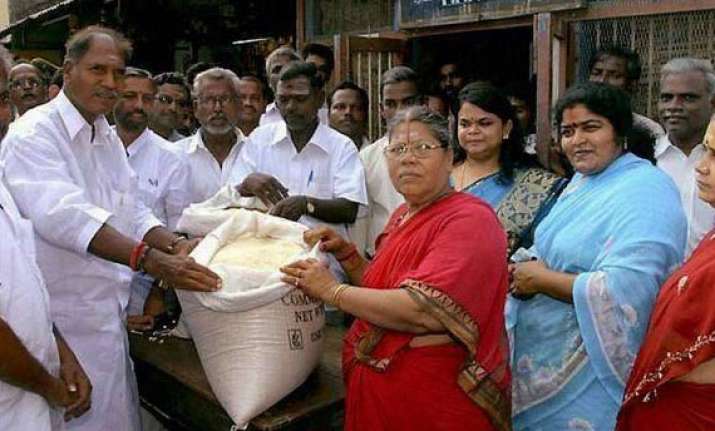 New Delhi: Rising prices of rice in the open market prompted households to reduce consumption and rely on ration shops to buy it at controlled rate, shows a government survey.
According to the NSSO survey, Indian families consumed less rice in 2011-12 but their purchases of the commodity under Public Distribution System (PDS) doubled in villages and rose by 66 per cent in cities.
The monthly per capita rice consumption in villages was 5.98 kg in 2011-12 compared to 6.38 kg in 2004-05 revealed the National Sample Survey Office's (NSSO) 68th Round Survey of Household Consumption of Various Goods and Services in India.
It found that monthly per capita rice consumption in cities fell to 4.49 kg 2011-12, from 4.71 kg in 2004-05.
However, according to study, the per capita consumption of PDS rice has doubled in villages and risen by 66 per cent in cities since 2004-05, implying that the share of PDS purchases in rice consumption has risen substantially.
The PDSs is India's food security system which is jointly managed by the Centre and states for the distribution of subsidised food and non-food items, particularly to poor.
The central government provides rice to states at Rs 8.30 per kg for above poverty line (APL) families, Rs 5.65 for below poverty line (BPL) families and Rs 3 per kg to families under Antyodaya Anna Yojana (AAY for poorest of poor). All households are provided 35 kg of grains including rice and wheat every month under PDS.
But since state governments decide the retail prices of commodities, they are generally lower under the PDS than those fixed by the central government.
At present, Kendriya Bhandar which is the the largest Consumer Cooperative Society in the country, sells parmal rice at Rs 33 per kg, superfine rice at Rs 37 per kg and basmati rice at Rs 90 per cent kg.
The price of the branded rice, on the other hand, ranges from Rs 72 to Rs 155 depending on the size and quality of the grain in the Kendriya Bhandar.
According to the survey, "Super Bazaars" and co-operative stores were not generally included under PDS. However, as and when they sold rationed commodities at controlled prices against ration cards, they were taken as ration shops for certain commodities.
As in the case of rice, the share of PDS purchase in wheat consumption has increased considerably. The monthly per capita consumption of PDS wheat was more than double in 2011-12 in both villages and cities as against what it was in 2004-05.
The per capita consumption of wheat in 2011-12 showed a slight rise since 2004-05 of about 0.1 kg per person per month in villages and a fall of 0.35 kg in urban areas.
The price of wheat under PDS is Rs 6.10 per kg for APL, Rs 4.15 per kg for BPL and Rs 2 per kg under AAY.
The NSSO survey is based on information collected during 2011-12 from 1,01,651 households in 7,469 villages and 5,268 urban blocks spread over the entire country.