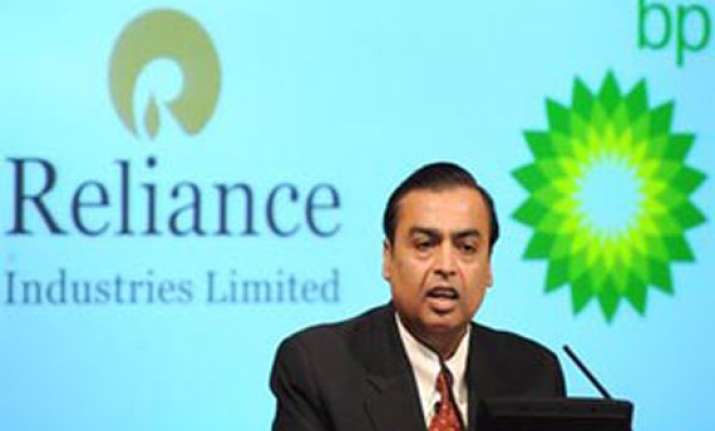 New Delhi, Feb 19: British oil major BP and Reliance Industries (RIL) will invest $5 billion in developing untapped gas reserves in the KG-D6 block, the companies announced Tuesday.
BP chief executive Bod Dudley and RIL chairman Mukesh Ambani detailed the investment plan to Petroleum Minister M. Veerappa Moily in their first joint meeting Tuesday.
Dudley and Ambani briefed Moily of plans to develop four trillion cubic feet of gas reserves in the KG-D6 in Andhra Pradesh where production has dropped to around 20 million standard cubic metres per day.
The duo informed Moily about the "joint future plans in India, including the KG D6 block enhancement plan designed to increase production from the block", RIL-BP said in a joint statement.
At current international liquefied natural gas (LNG) prices, it would cost more than $50 billion to import this volume of gas into India, the statement said.
It quoted British Prime Minister David Cameron as saying, "BP is already the largest single British investor in India and the decision to join forces with RIL to invest $5 billion in the next few years into India's gas markets reinforces how two of Britain and India's leading companies can work together to invest in and supply the energy needs of the future, creating jobs and boosting prosperity."
Cameron is currently on an official visit to India leading the largest-ever trade delegation from the UK to any country.
As per the companies' plans, investment in the new reserves in the satellite fields surrounding the currently producing D1 and D3 gas fields and MA oil and gas field will take three to five years.
RIL and BP plan to augment current production by upgrading facilities at the D1, D3 and MA fields.
"Gas from these projects will deliver energy to millions of Indians and would significantly help India in reducing import dependence.
My ministry is committed to provide necessary support to promote such investment in the domestic oil and gas sector. We will do the needful to fast track these projects and help them attain economic viability," said Moily.