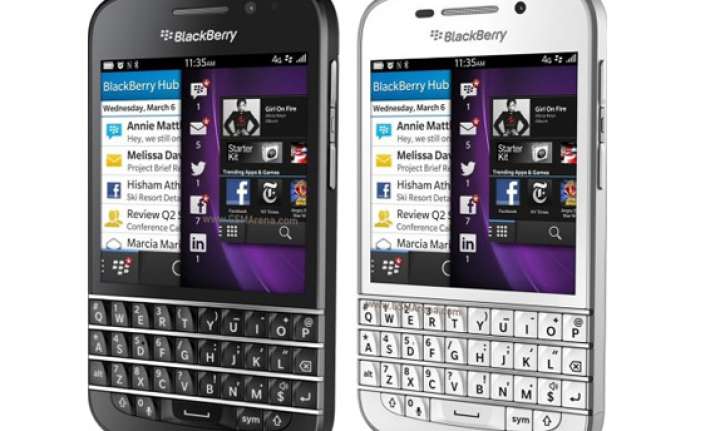 New Delhi, June 13: American Express or Amex is offering a special limited time offer to those who want to purchase the newly launched BlackBerryQ10 smartphone in India. Under the new exclusive scheme, Amex is offering a gift card worth Rs 5,000 to those who buy a BlackBerry Q10 utilising an American Express card.
The American Express gift card would be redeemable at over 100,000 locations throughout India at Amex recognised point of sale. But the special offer is only available for customers making a purchase between June 12 to July 3, 2013.
he Canadian manufacturer has priced the device at Rs 44,990, bringing it level to the likes of Apple iPhone 5 and HTC Butterfly in terms of cost.
The BlackBerry Q10 is a great device to mad-messaging executive and small-business types who will only be satisfied with the world's finest hardware keyboard. Overall, the design of the device has been kept the same but what's changed is that you now get a physical QWERTY keyboard and a touchscreen display. The all-new BlackBerry Q10 features a SuperAMOLED display with resolution of 720x720p and 328ppi pixel density.
The BlackBerry Q10 is about 10.3 mm thick and weighs 139 grams. This smartphone has a dual-core 1.5 GHz Texas Instruments OMAP 4470 mobile processor, 2 GB RAM and 16 GB on-board storage. There is also a hot swappable memory card slot that can accommodate up to 32 GB micro SD card. You're also treated with an 8MP camera on the back and a 2MP front-facing shooter. With capability to record full 1080p HD videos, the Q10's camera promises high quality imaging. There is a 2 megapixel camera in the front capable of 720p HD video recording and 3X digital zoom.
Connectivity options in Q10 include 2G, 3G, Wi-Fi, Bluetooth 4.0 NFC and microUSB 2.0.
The user interface of the new BlackBerry Q10 is simple and intuitive. Since the Q10 and other BlackBerry devices don't have home buttons, the interface relies mostly on swipes to get back to the home screen. You have your typical pages of apps, and scrolling farther to the left will reveal a page dedicated to recently-opened apps, and swiping all the way to the left will bring up BlackBerry Hub, which is the company's new centralized communication hub, where your phone gathers up all of your email and social network activity into one stream.
The device has a 2,100mAh battery and is available in the country in white and black colours.