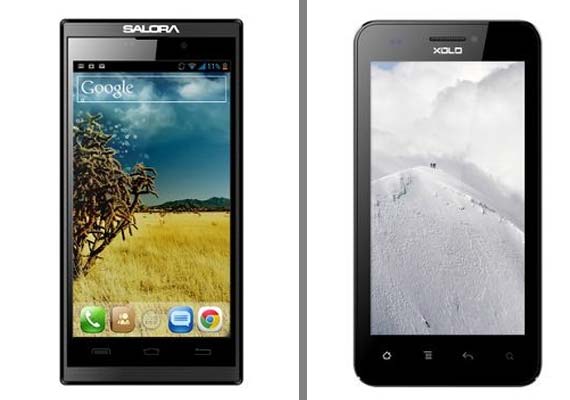 New Delhi, Apr 1: Both Salora Powermaxx Z1 and Xolo B700 come with reasonably well battery life.
The highlight of Salora Powermaxx Z1 is the 3,200mAh battery, which easily lasts over two days. This will prove good for many smartphone users but it is also responsible for the added weight. BThe Z1 has some innovative features like the Zero Air Gap technology on the 4.5 inch qHD display which is same like In-cell type of displays. The phone comes with Android ICS, 1 GHz dual-core processor, 512 MB of RAM, 4 GB internal memory and microSD slot.
On the other hand, Xolo B700 is a dual-SIM [GSM+GSM] smartphone that runs on Android Ice Cream Sandwich (ICS) and comes with 512MB of RAM for a smoother and faster smartphone experience. The B700 has a 3450 mAh battery, which offers up to 380 hours of standby time on 2G and up to 363 hours of standby on 3G. It offers up to 23 hours of talk time on 2G and up to 20 hours of talktime on 3G. The XOLO B700 is powered by 1GHz dual-core processor and has a PowerVR SGX531 GPU. Ithas an accelerometer and a gyroscope for a great gaming experience.
Let's do a specs comparison in detail.
Design
Xolo B700 comes with a smaller 4.3 inch display as compared to 4.5 inch display of Salora Powermaxx Z1. Also it weighs 10 grams less than Salora Powermaxx Z1 which weighs 170 grams. But in terms of dimensions Powermaxx is much better as it is less wider (64.5mm) than the Xolo handset (66.5mm). Powermaxx is also thinner (10.9mm) than Xolo B700 (12.1mm). It is also 0.5 mm longer than Xolo B700 which stands at 131mm.
This points to much thinner bezel and much better packaging by Salora and also means that Salora Powermaxx Z1 is more pocketable despite a bigger display and is only slightly heavier.
Display
Both the phones have IPS panel for wider angle viewing and sport qHD (960 x 540 pixels) resolution. But since Xolo B700 has a smaller 4.3 inch display than 4.5 inch screen of Salora Powermaxx Z1, it gets slightly better pixel density.
We have not checked the Xolo B700 yet so can't comment on the quality of its display, however Salora has done a nice job with its display. What we like overall is that you get more display for overall slimmer and smaller package.
Processor
Both the phones have 1 GHz dual core processor, 512 MB RAM and 4 GB ROM (inbuilt memory). However, we expect the performance of Salora Powermaxx Z1, which now comes with Android 4.1 Jelly Bean operating system, to be better than Xolo B700 which has Android 4.0 thanks to Project Butter (which was Google's project to make Android smoother and lighter and resulted in the launch of Android Jelly Bean).
Camera
Salora Powermaxx Z1 comes with an 8 megapixel camera at the back and 1.3 megapixel unit in the front. Xolo B700 on the other hand has a 5 megapixel unit at the back and 0.3 megapixel unit in the front.
We will leave it at spec level only till we get to test the camera of Xolo B700, Salora Powermaxx camera was good though.
Battery
This is where Xolo B700 gets better numbers. It has a bigger 3450 mAH battery compared to 3200 mAH unit of Salora Z1. The Xolo smartphone also has to contend with lesser battery drain thanks to its smaller display.
According to Xolo, the B700 offers 20 hours of talktime compared to 18 hours of Powermaxx Z1, as claimed by Salora. Both the figures are simply great as most other smartphones in this price bracket offer about 5-6 hours of talktime. In terms of claims it is even better than feature phone which tend to last for days on a single charge.
Verdict
The price difference between the two phone is Rs 1000, with Salora Powermaxx Z1 selling for Rs 9,999 compared to Rs 8,999 of Xolo B700. We recon, Salora Powermaxx Z1 is better than Xolo B700 at least on paper.
Powermaxx is better in terms of packaging with smaller design despite bigger display, offers almost as much battery back up as Xolo and also gets a bigger camera and some additional features like active noise cancellation for clearer voice calling. Rest of the features of both the phones are similar. You can read the review of Salora Powermaxx Z1 here.
The biggest drawback for Salora is that it is a relatively new brand in this space but it does have a decent service network as it has been in the business of providing services to other mobile phone brands.
Since Xolo is better known brand, choosing B700 is not a bad deal either, at least you would save Rs 1000 and get better battery life and almost similar performance.