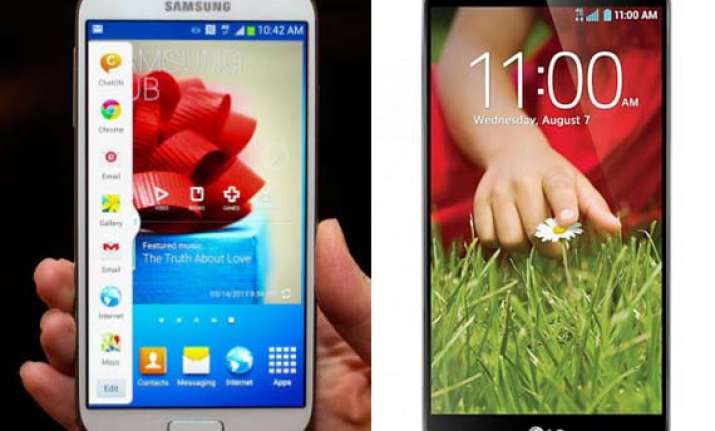 New Delhi: Samsung and Apple are obviously the two dominating forces in the smartphone arena at work on the world stage, but LG is not too far behind as it is the third biggest smartphone maker in the world. The Korean handset maker recently took the wraps off its latest effort in the highly competitive smartphone market, the G2, which it describes as "the most ambitious phone in history". In terms of specs, the LG G2 seems to be king of the hill for the moment. It has the fastest quad-core processor, 'best-in-class' power capacity, and highest resolution HD screen of all the high-end devices announced so far, optical image stabilisation and studio quality Hi-Fi sound. The G2 sports a nearly 5.2-inch edge-to-edge display and a 13 MP rear-facing camera.
On the other hand, the Galaxy S4 is the latest and greatest flagship out of Korea. It would be better to say that the success of Galaxy series has helped Google's Android operating system gain the sales and market share it currently has. A recent report suggests that Samsung has sold over 20 million Galaxy S4 units worldwide since the device's launch. That's roughly 1.7 times faster than sales of the Galaxy S3 (that's global channel sales, not sales to consumers) at the same point in that device's life cycle. Keen to capitalise on the Galaxy series, the Korean company has expanded its Galaxy series with spin-off devices, including the Galaxy S4 Mini, Galaxy S4 Zoom and Galaxy S4 Active. In India, Samsung is selling the Galaxy S4 powered by Exynos 5 Octa, an 8-core processor. The US and several other markets, especially those with 4G availability, have got the Galaxy S4 that is powered by Qualcomm's S600 chip. The Galaxy S4 runs the latest 4.2 version of Android, overlain with Samsung's TouchWiz user interface. In addition, the S4 comes with a host of features including gesture controls and proximity features.
Let us do a detailed comparison of these smartphones and find out which one offers more juice to customers.
Size
Thanks to its larger screen, the LG G2 is slightly bigger than the Galaxy S4. The G2 is, however, 13 percent thicker. The phone is just 1mm wider than the Galaxy S4, thanks to the razor-thin bezel areas that sit to the left and right of the display.    
Winner: S4