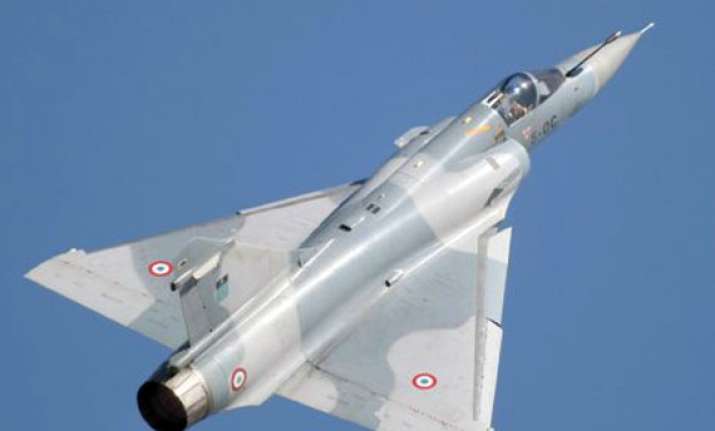 New Delhi, July 30: India on Friday inked the $2.4-billion (Rs 10,900 crore) deal with French armament majors Thales and Dassault Aviation for the upgrade of 51 Mirage-2000 multi-role fighters in IAF's combat fleet.

Under this long-awaited project, the first two jets will be upgraded in France with new avionics, radars, mission computers, glass cockpits, helmet-mounted displays, electronic warfare suites, weapon delivery and precision-targeting systems.

After their delivery to IAF in 44 months, the rest of the jets will be retrofitted in India by Hindustan Aeronautics Ltd (HAL) after transfer of technology and training from the French companies.

Another big contract for about 450 MICA (interception and aerial combat missiles) systems from French company MBDA to arm the upgraded Mirages is also in the final stages.

Consequently, the overall Mirage upgrade package, including the fire-and-forget MICA missiles and the infrastructure build-up at HAL, will eventually cross the Rs 15,000-crore mark. While this has been dubbed exorbitant by some, IAF argues the "retrofitted" Mirages will remain "top-notch multi-role fighters" for almost two decades more.

"We are going in for a mix of new acquisitions and upgradation of existing fleets to retain our combat edge," said an officer. For instance, IAF's 63 MiG-29s are already undergoing an upgrade under a $964- million deal inked with Russia in March, 2008. IAF has also inducted over 130 of the 272 Sukhoi-30MKIs contracted from Russia for around $12 billion.

India also wants to ink by December the $10.4-billion project for 126 medium multi-role combat aircraft (MMRCA), in which only the French Rafale and Eurofighter Typhoons are now left in contention after ejection of the American, Russian and Swedish jets.

The biggest project on the anvil is the planned induction of 250-300 Indo-Russian advanced stealth fifth-generation fighter aircraft (FGFA) from 2020 onwards, which is estimated to cost India around $35 billion.