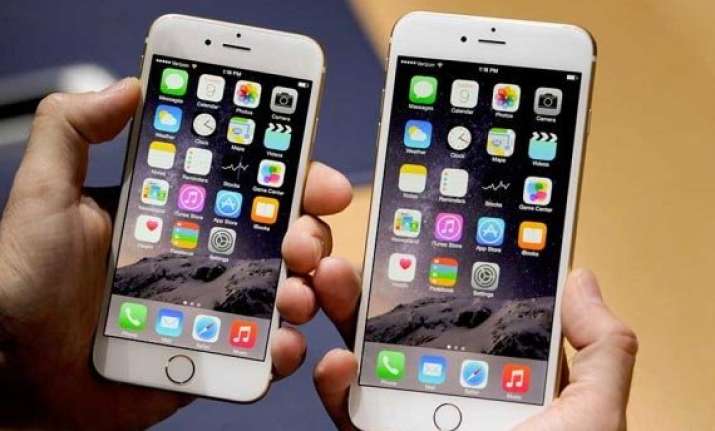 New Delhi: As per latest reports Apple's latest iphone 6 is likely to be priced at Rs 53,500 for the 16GB model while the iPhone 6 Plus will be starting at Rs 62,500.
The smartphones will go on sale in India starting October 17, in line with the date that was last seen on Apple's India website. This means, like last year, the new iPhones will reach the Indian market just in time for Diwali.
Also, the 64GB version of the iPhone 6 will cost Rs. 62,500 and the 128GB variant of the new device will have a price tag of Rs 71,500 respectively. Likewise, the 5.5-inch iPhone 6 Plus will cost Rs 71,500 for the 64GB variant, and Rs 80,500 for the 128GB variant.
 
While the iPhone 6 comes with a screen resolution of 1334x750p, the iPhone 6 Plus' 5.5-inch display sports a resolution of 1920x1080p. Both the devices are the thinnest ever Apple has ever made. Powered by the Apple's latest A8 processor, the company claims the GPU can perform up to 50 times faster than previous generations, while the CPU is up to 25 per cent speedier. The new and updated M8 processor can now measure stairs.
The new devices come with an 8MP iSight camera that features phase detection. The iPhone 6 can now takes 43MP panorama photos. Apple has given a bump to the battery size of the new devices. Battery life on the smaller iPhone 6 has seen a minor upgrade, with 10 hours more talk time and an hour more Wi-Fi browsing time.
Apple has introduced a new Apple Pay service, integrated with the new iPhones and a digital watch. The iPhone 6 will cost $199 for a low-end model with 16 GB of storage. That increases to $299 for a 64 GB model and $399 for a 128 GB model. (All of these prices are with a wireless contract.) For the iPhone 6 Plus, you'll have to pay $100 extra: it's $299 for a 16 GB model, going up to $499 for the 128 GB model.