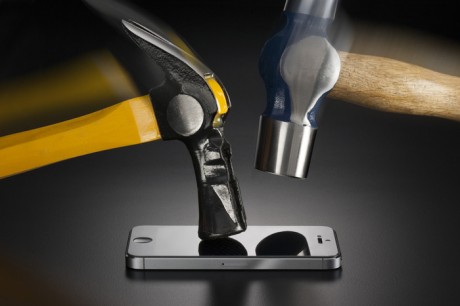 New Delhi: What are the chances of you dropping your phone and not having to shell out a fortune? Not many. Surveys suggest that over 85 percent of smartphone owners have dropped their phones at least once per year and 55 percent have dropped their phones three times or more. While guaranteeing against falls is something that only you could guard against, Corning today unveiled a new edition of smartphone cover glasses that could make your 'falls' slightly less painful.
Designed to provide protection against breakage from everyday drops, Corning today unveiled the newest version of the popular Gorilla Glass – the Gorilla Glass 5 at its office in Palo Alto, California.
The new cover glass will soon be commercially available and is expected to be on product models of leading brands later this year.
Corning lab tests claim that Gorilla Glass 5 will survive drops onto rough surfaces up to four times better than competitive glass designs. The official statement says that the new Gorilla Glass 5 survives "1.6-meter, shoulder-height drops onto hard, rough surfaces up to 80% of the time." The company also claims this version is up to 4X times better in drop failure height than competitive glasses.
Also read: 5 Prisma filters that are the best; you can ignore the rest
Corning conducted a global study regarding instances of users having dropped their phones. This study carried out in 11 countries including the U.S., Brazil, the U.K., France, Germany, Italy, Turkey, India, Russia, China, and Indonesia. Collectively, these countries represent 3.9 billion people, or 54 percent of the world's population.
 "With each successive generation of Corning Gorilla Glass, we have taken cover glass technology to new levels. Gorilla Glass 5 is no exception, extending Corning's advantage in drop performance over competitive glasses," said John Bayne, vice president and general manager said during the launch.
Corning leads the cover glass industry and was created nearly 10 years ago. Gorilla Glass has been used on more than 4.5 billion devices worldwide, including more than 1,800 product models across 40 major brands. Reports also suggest that some ATMs will even sport an antimicrobial version of Gorilla Glass on their displays.