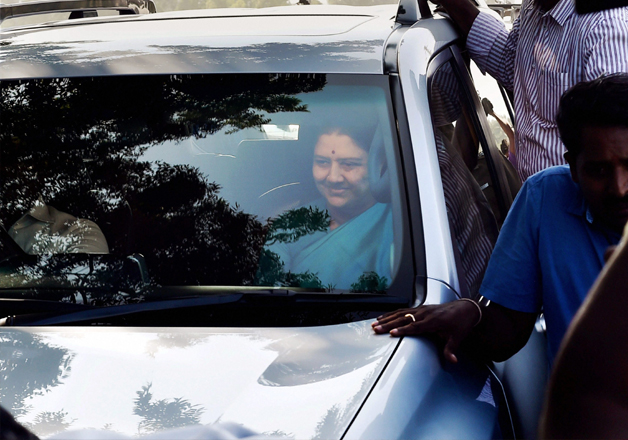 Hours after the Supreme Court convicted AIADMK General Secretary VK Sasikala in a corruption case, Tamil Nadu based television channels Sun TV and Raj TV saw a huge spike in its shares.
Sun TV shares rose to as high as Rs 741, registering a hike of 4 per cent, and closed at Rs 733.20 with a hike of 2.76 per cent at the Bombay Stock Exchange (BSE).  
75 per cent of Sun TV shares are owned by Kalanithi Maran - the grandnephew of AIADMK rival DMK leader M Karunanidhi. 
The company had seen a huge spike in its share value earlier this month after a court in Delhi had discharged Kalanithi Maran, his brother and former Telecom Minister Dayanidhi Maran and others in the Aircel-Maxis deal cases. The cases were filed by Central Bureau of Investigation (CBI) and the Enforcement Directorate (ED) alleging that Dayanidhi Maran, as Minister in the UPA-I government, used his influence to help Malaysian businessman T.A. Ananda Krishnan buy Aircel by coercing its owner C Sivasankaran to part with his stake. 
The shares of Sun TV's rival Raj Television Network at BSE also saw a surge of as much as 13 per cent to Rs 73 and closed at Rs 68.10, 5.83 per cent higher than yesterday.
Raj Television is promoted by brothers M Ravindran, M Raghunathan, M Raajhendhran and M Rajarathnam who own 70.38 per cent shares among them. 
Sasikala's conviction by the Special trial court was today upheld by Supreme Court which dashed her ambition to become the Tamil Nadu Chief Minister. 
The apex court judgement, delivered at a time when the state is witnessing a bitter power struggle in the aftermath of Jayalalithaa's demise, set aside the Karnataka High Court order acquitting all the four accused and "restored in toto" the trial court's decision in the 19-year-old disproportionate assets case. 
The top court directed Sasikala and her two relatives -- V N Sudhakaran, Jayalalithaa's foster son, and Elavarasi, widow of Sasikala's elder brother, to "forthwith surrender" before the Bengaluru's trial court which will "take immediate steps" to ensure that all the three "serve out the remainder of sentence awarded to them and take further steps in compliance of this judgement, in accordance with law."
60-year-old Sasikala will now have to serve a jail term of around three-and-half years out of four years awarded by the trial court as she has already undergone almost six months in prison.