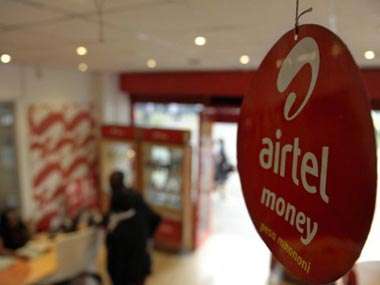 Encouraged by the response of its pilot services in Rajasthan, Airtel Payments Bank is gearing up to extend the services to southern states starting this week.
India's first payments bank to go live, Airtel opened over one lakh savings accounts within a fortnight of launch. The saving accounts provide 7.25 per cent interest per annum on deposits.
"We are getting into South India within a week... a couple of states like Andhra Pradesh, Telangana and Karnataka," Airtel Payments Bank CEO Shashi Arora told PTI.
Arora said these states have a deep rural market where the opportunity to offer banking benefit to financially excluded and the unbanked population is large.
"We would be rolling out with about 20,000 retail outlets in Andhra Pradesh and Telangana combined, and another 15,000 or so, in Karanataka," he said.
These retail outlets will act as banking access points and offer banking services, including eKYC-led onborading, cash deposits, cash withdrawals, he added.
Arora added that it is a "matter of just a few weeks" before Airtel Payments Bank launches services across India.
"The fact that we have presence in telecom circles across India, gives the payment bank the ability to scale up significantly in a short span of time," he said.
Meanwhile, in a statement, Airtel Payments Bank said it has opened over 100,000 savings accounts within a fortnight of rollout of its pilot services in Rajasthan.
Close to 70 per cent of these accounts opened are in rural areas, highlighting the massive scope for serving customers in unbanked and underbanked pockets, the statement added.
In Rajasthan, Airtel Payments Bank is rolling out pilot services across 10,000 Airtel retail outlets, which also act as banking points.
Airtel Payments Bank plans to have a network of 100,000 merchants (shops) across Rajasthan by the end of the year. All these merchants will accept digital payments via Airtel Payments Bank using a mobile phone.
With the objective of deepening financial inclusion, RBI kicked off an era of differentiated banking with SFB (small finance bank) and PB (payments bank), and 21 entities, including 11 for payments bank, were given in-principle nod last year.
Later, three entities -- Tech Mahindra, Cholamandalam Investment and Finance Company and a consortium of Dilip Shanghvi, IDFC Bank and Telenor Financial Services -- backed out of the payments bank licensing.
Payments banks can accept deposits and savings bank deposits from individuals and small businesses, up to a maximum of Rs 1 lakh per account.
It will allow money transfer to any bank account in India and free money transfer from Airtel to Airtel numbers within Airtel Bank. It is also offering personal accidental insurance of Rs 1 lakh with every savings account.
In April 2016, Airtel Bank became the first entity in India to receive a payments bank licence from the Reserve Bank of India. The payments bank plans to leverage Bharti Airtels extensive national distribution network of over 1.5 million retail outlets, with penetration in rural areas.