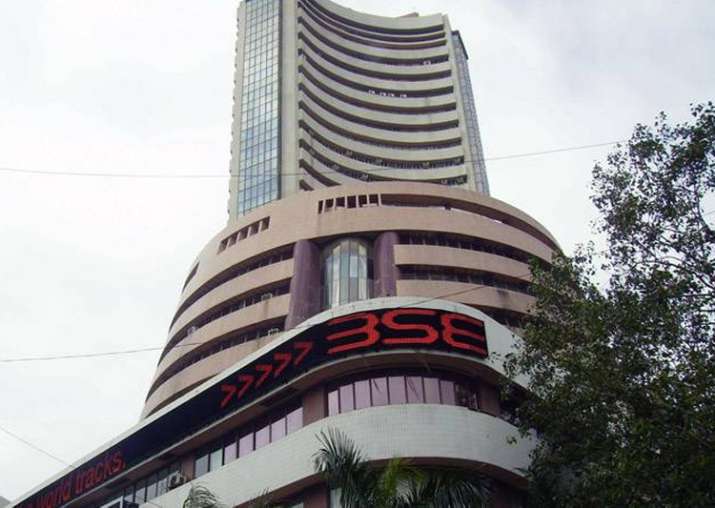 Gripped by fear psychosis due to geo-political aftershocks, key stock market indices were on a sticky wicket for the fifth day today as both Sensex and Nifty fell over 1 per cent to hit their one-month lows. The sharp plunge left investors poorer by over Rs 95,000 crore as the market cap stood at Rs 1,27,08,846 crore. 
Risk appetite took a hit after the Economic Survey said achieving the high end of the 6.75-7.5 per cent growth projected previously will be difficult. This is markets' first weekly fall in six. 
Weakness in the rupee against the American currency and lacklustre global shares dragged down the indices, too. The BSE 30-share Sensex remained in the negative zone and settled down 317.74 points, or 1.01 per cent, at 31,213.59, its weakest closing since July 4. The index had tumbled 794.08 points in the last four sessions. 
The NSE Nifty after cracking the 9,700-mark to hit a low of 9,685.55, finally settled lower 109.45 points, or 1.11 per cent, at 9,710.80, a level last seen on July 7. 
For the week, the Sensex and Nifty both recorded first fall in six weeks, by plunging 1,111.82 points, or 3.43 per cent, and 355.60 points, or 3.53 per cent, respectively. 
"Investors across the globe continued to pare risky positions amid rising geo-political tensions between the US and North Korea... Domestic sentiment was also adversely affected after the mid-year economic survey today said there are downside risks to the Indian government's growth forecast of 6.75-7.5 per cent for 2017-18," said Karthikraj Lakshmanan, 
Senior Fund Manager Equities, BNP Paribas Mutual Fund. Largest lender SBI had a bad day, sliding the most by 5.36 per cent even as it posted a consolidated net profit of Rs 3,105.35 crore for the June quarter. 
Others that dragged the key indices down were M&M, Reliance Industries and L&T. 
JKumar Infraprojects and Prakash Industries resumed trading today and crashed by up to 20 per cent to hit the lower permissible limit after SAT stayed the curbs imposed by SEBI on them. 
Of late, market has been reeling under pressure after regulatory clampdown after SEBI's Monday directive imposing trading curbs on suspected 331 shell companies and mounting geopolitical tensions between the US and North Korea. Selling was across the board, led by metal, auto, PSU, realty and infrastructure stocks. 
Broader markets continued to face selling from retail investors as mid-cap and small-cap indices fell by 0.20 per cent and 0.04 per cent, respectively. 
Foreign portfolio investors (FPIs) were net sellers of shares worth Rs 1,171.21 crore while domestic institutional investors (DIIs) bought shares worth Rs 821.72 crore yesterday, as per provisional data. Consumer durables and healthcare managed to close in the positive terrain on value buying.