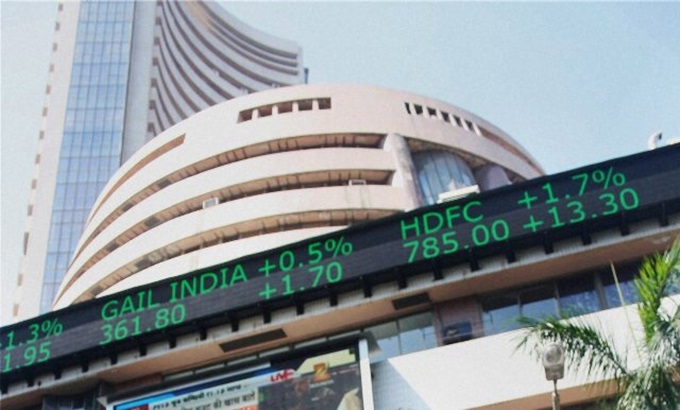 Soon after the American Federal Reserve decided to raise the benchmark interest rate for the first time this year, the Indian benchmark BSE Sensex fell 141 points to 26,462.18 in early trade on Thursday.
The 30-share barometer was trading down by 140.66 points, or 0.53 per cent, to 26,462.18. 
HDFC Bank, ICICI Bank, Sun Pharma, Bharti Airtel, ONGC, Asian Paints, ITC Ltd, Coal India and Hindustan Unilever were the major losers that pulled down the key indices.
The NSE Nifty fell by 60.50 points, or 0.73 per cent, at 8,121.95.
Among other Asian markets, Hong Kong's Hang Seng fell 1.74 per cent and Shanghai Composite shed 0.13 per cent while Japan's Nikkei was down 0.15 per cent in early trade today.
China's currency renminbi, or yuan, also weakened today against the US dollar, falling to nearly eight-year lows against the dollar.
The central parity rate of the renminbi weakened 261 basis points to 6.9289 against the US dollar today, according to the China Foreign Exchange Trading System.
The Federal Reserve yesterday raised the benchmark interest rate by 25 basis points, the first and the only time in 2016, and indicated a faster rate hike pace next year. 
The Fed released its updated economic projections indicating that the central bank expects to raise rates three times next year, compared to the two times suggested in its September projections. 
Its new projection has the unemployment rate dipping to 4.5 percent by the end of 2017 and remaining at that level in 2018.
The Fed foresees economic growth reaching 1.9 percent this year, slightly above its forecast in September, and 2.1 percent in 2017. That's slightly more optimistic than it projected in September.
The Fed kept its long-term estimate for economic growth at 1.8 percent, far below the 4 percent pace that President-elect Donald Trump has said he can achieve with his program of deregulation, tax cuts and increased spending on infrastructure.
(With PTI inputs)